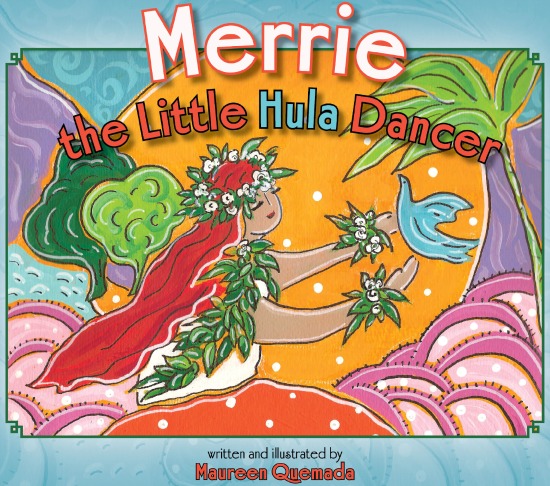 MEDIA RELEASE
"Merrie the Little Hula Dancer"
Written and illustrated by Maureen Quemada
Little Merrie is lonely dancing hula by herself. So she makes a wish, and one by one, dancers join her. This delightful little story, written and illustrated by Maureen Quemada, teaches young children how to count to 10 in English and Hawaiian.
The vibrant, whimsical illustrations capture the gentle movements of the hula, and the catchy rhymes will have children counting in no time. And for those who would like more intensive study, the numbers and their Hawaiian translations are listed again in the back of the book.
Children and adults will surely cheer and count as Merrie's halau grows bigger and bigger.
"Merrie the Little Hula Dancer" will be available in late May. (6×9 inches, 160 pages, Hardcover, $14.95)
Quemada is an award-winning folk art painter and illustrator. Her paintings have appeared in juried exhibitions throughout the southwest, and can be found in private and corporate collections.
Her illustrations appear in Skipping Stones, Vamanos Magazine, Babybug Magazine, and Ladybug Magazine.
She currently lives near Hilo with her husband, John.
Mutual Publishing, established in 1974, is one of Hawaii's largest trade publishing houses. It offers one of the largest selections of Hawaiian titles in the Islands, and a full range of private label services.
— Find out more:
www.mutualpublishing.com