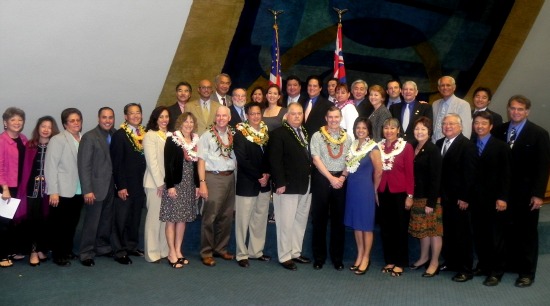 MEDIA RELEASE
The state Senate has confirmed Hawaii's first appointed Board of Education. The members were appointed by Gov. Neil Abercrombie with the advise and consent of the Senate.
Act 5, which was signed into law March 14, gives the governor the authority to appoint nine members, which would consist of: one member from the county of Hawaii, one member from the county of Maui, one member from the county of Kauai, 3 members from the city and county of Honolulu, and three at-large-members; provided that the governor select an at-large member as the chairperson.
"While each of the appointees are impressive in their own right and have talked about their vision and tangible plans for building upon our successes and making our school communities even better, I believe their real strength will lie in their ability to work together as a cohesive and committed group focused on bringing about real change," said Jill Tokuda, committee chairwoman.
"Sitting through the seven hours of confirmation hearings was like watching the pieces of a puzzle come together – and in the end, I believe everyone who witnessed the events walked away excited and hopeful, with a clear picture of what this board envisioned for the future," Tokuda said.
The appointees are:
* Don Horner, chief executive officer and chairman of First Hawaiian Bank. Governor Abercrombie chose Horner to serve on the elected BOE to fill a vacancy on Feb. 9, and has designated him to serve as chair of the BOE.
* Brian De Lima, attorney and former Hawaii County Council Member
* Wesley Lo, chief executive officer at Maui Memorial Medical Center.
* Kim Gennaula, philanthropy director at the Kapiolani Health Foundation
* Jim Williams, administrator and CEO of the Hawaii Employer-Union Benefits Trust Fund (retired)
* Nancy Budd, attorney and a member of the Kauai Planning and Action Alliance Public Education Action Team
* Charlene Cuaresma, associate director of the UH Manoa Graduate Professional Access Program
* Cheryl Kauhane Lupenui, former chief executive officer of the YWCA on Oahu
* Keith Amemiya, executive administrator and secretary of the Board of Regents
The board, which is composed of all volunteers, has set its first meeting for April 26, 2011.