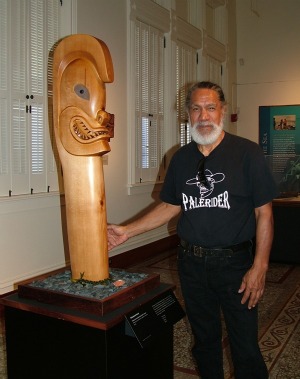 MEDIA RELEASE
Sculptor, historical illustrator, educator, and cultural exponent Rocky Kaiouliokahihikolu Ehu Jensen will discuss the concepts and philosophy which underlie Hawaii Maoli arts in an upcoming Puana Ka Ike lecture in Kona and an Eia Hawaii presentation in Hilo.
Jensen will speak on "Unveiling Concepts & Philosophy behind Maoli Arts" from 5:30–7 p.m. Friday, April 1, at the Keauhou Beach Resort Ballroom in Kona and from noon-1:30 p.m. Monday, April 4, at the University of Hawaii at Hilo, Campus Center Room 301.
Jensen's talks will reveal the reasons why Hawaii Maoli imagery was and continues to be created. Taking his audience on a journey from pre-contact to the contemporary present, Jensen will discuss the philosophy and language behind Maoli artistic iconography.
Protocol and procedure will be revisited in order to debunk common misinterpretations of Maoli artistic culture.
Jensen is co-founder and director of the contemporary art conclave, Hale Naua, Society of Maoli Arts. Jensen's work is exhibited in premier venues throughout the country.
He has had 12 major exhibitions at Honolulu's Bishop Museum, and his work has been displayed in museums and galleries throughout the United States, Canada, New Zealand, and Paris, and most recently at Taiwan's Natural Museum of Prehistory.
In 1999 Jensen installed the monument Na Lehua Helelei for the Hawaiian war dead at Fort DeRussey Army Museum in Waikiki. He is also distinguished by having a permanent collection of his works installed in the newly renovated Hawaiian Hall at the Bishop Museum, and he currently serves as the Bishop Museum's cultural advisor on pre-contact art.
Jensen played a pivotal roll in the construction of the Hawaii Maoli ship Hawaiiloa, lending his expertise in woodworking and Maoli culture.
For more information on Jensen's presentations, contact Joy Cunefare at (808) 534-8528 or e-mail info@kohalacenter.org.
For lecture schedules and webcasts of previous lectures, visit kohalacenter.org/puanakaike/ab… and www.keauhouresort.com/learn-pu…
The Puana Ka Ike and Eia Hawaii lecture series are presented in partnership with Keauhou-Kahaluu Education Group of Kamehameha Schools, The Kohala Center, the Kipuka Native Hawaiian Student Center at the University of Hawaii at Hilo, and Keauhou Beach Resort.