MEDIA RELEASE
The state Department of Labor and Industrial Relations has announced the seasonally adjusted unemployment rate for January remains at 6.3 percent, unchanged from the revised rate for December of 6.3 percent.
There were 590,800 employed and 39,650 unemployed in January, for a total seasonally adjusted labor force of 630,450. The annual average unemployment rate for 2010 was 6.6 percent compared to 6.8 percent in 2009. Nationally, the seasonally adjusted unemployment rate decreased to 9.0 percent in January from 9.4 percent in December.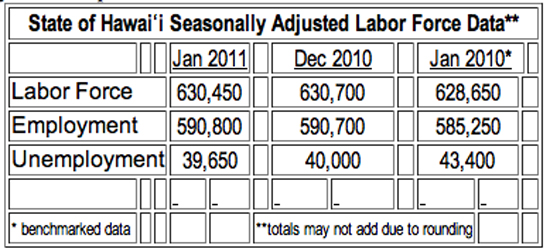 The unemployment rate figures for the State of Hawaii and the U.S. in this release are seasonally adjusted, in accordance with the U.S. Bureau of Labor Statistics (BLS) methodology. The not seasonally adjusted rate for the State increased to 6.4 percent in January from 5.8 percent in December.
Industry Payroll Employment (Establishment Survey)
In another measure of employment, total seasonally adjusted nonagricultural jobs, which reflects the annual benchmarked revision increased by 3,700 or +0.6 percent to 594,000 in January.
The industries registering job gains in the private sector included Trade, Transportation, and Utilities (+2,100); Leisure and Hospitality (+1,300); Professional and Business Services (+600); Other Services (+300); and Educational and Health Services (+100). The sectors reporting job decreases were Financial Activities
(-400) and Construction (-1,000).
Government registered job growth primarily in State Government. Over-the-year, from January 2010, the seasonally adjusted job count grew by 9,000 jobs or + 1.5 percent. The industries that comprised the large proportion of job growth in the private sector were Leisure and Hospitality (+2,800); Professional and Business Services (+2,400); and Educational and Health Services (+2,000). The revised annual average total nonagricultural jobs for 2010 were 586,800 compared to 591,600 for 2009, a decrease of 4,800 jobs or -0.8 percent.
BLS will reconstruct historical data back to 1990 as time and resources allow. This release incorporates revised job count figures from 1990 through 2010 for the seasonally adjusted series. The reconstructed data reflects data from historical corrections applied to unadjusted supersector or sector level series.
Trade, Transportation, & Utilities (+2,100)
This major industrial series reported the largest proportion of job increases over-the-month after falling for two consecutive months. Wholesale Trade remained relatively stable. The increase in machinery, equipment, and supplies merchant wholesalers; and lumber and other construction materials merchant wholesalers was offset by the decrease in miscellaneous durable goods merchant wholesalers; and miscellaneous nondurable goods merchant wholesalers. Retail Trade accounted for a 2,300-job gain in January.
The growth was partly due to the opening of a new clothing store in Waikiki in December last year hiring several hundred employees, as well as job gains in sporting goods, hobby and musical instrument stores. The industry also did not release as many staff as expected in January. Job losses will be reflected in February. Transportation and Warehousing comprised a 200-job loss mainly in scenic and sightseeing transportation, water.
Leisure and Hospitality (+1,300)
Leisure and Hospitality expanded by 1,300 jobs rising for the seventh month in a row. Arts, Entertainment, and Recreation remained essentially unchanged as the gain in golf courses; and fitness and recreational industries was countered by job losses in series in other amusement and recreation industries.
Accommodation and Food Services composed the entire job growth in this major sector industry in January. The continual reported increases in hotel occupancy rates and visitor arrivals assisted by major sporting events such as the Sony Open and the NFL Pro Bowl contributed to job gains experienced by the hotel operators and food service establishments.
Professional and Business Services (+600)
This industrial series registered a 600-job increase after remaining constant a month earlier. Professional, Scientific, and Technical Services trended up by 400 jobs in engineering services; and management, scientific, and technical consulting services. Administrative and Support and Waste Management and Remediation Services composed the remaining 200-job gain mainly in business support services.
Other Services (+300)
This miscellaneous group rose by 300 jobs after edging down the previous month. The increase was noted in various entities including personal and laundry services; social advocacy organizations; and parking lots and garages.
Educational and Health Services (+100)
Educational and Health Services trended up modestly by 100 jobs, increasing for the second straight month. Educational Services added 200 jobs in educational support services. Health Care and Social Assistance edged down by 100 jobs in individual and family services.
Financial Activities (-400)
Financial Activities posted a 400-job drop after reporting no changes in December. Finance and Insurance slipped by 200 jobs in activities related to credit intermediation. Real Estate and Rental and Leasing accounted for the remaining 200-job loss in commercial and industrial machinery and equipment rental and leasing; as well as lessors of real estate.
Construction (-1,000)
Construction declined by 1,000 jobs in all series after experiencing three months of consecutive growth. Construction of Buildings dropped in residential building construction. Special Trade Contractors scaled back in roofing contractors; glass and glazing contractors; and framing contractors. Meanwhile, Heavy and Civil Engineering Construction lost jobs in utility system construction; and highway, street, and bridge construction. Over-the-year, from January 2010, this industry shredded 1,700 jobs in part due to completion of various projects and delay in building activities.
Government (+1,500)
Government recorded job growth from December. Federal Government rose by a minimal 100 jobs while Local Government trended down by the same amount. State Government accounted for the total 1,500 job gain predominantly in the Department of Education as it continues its calendar year school session.