Highlights from the Kailua Village Business Improvement District's latest newsletter:
Henry Street Shaping Up

Things are progressing well on lower Henry Street. A new Jack in the Box has opened and construction of an Aloha Island Mart and Service Station is on schedule.
"We are in talks with a tenant for the parcel makai of Jack in the Box," said Sean Asmus, Vice President of Development for land owner Reddy Development. "We've had tremendous interest and are hopeful that within the next five to six months, we'll have some more leases."
To date, land improvement and construction has topped $4 million and dozens of jobs have been created by this project that is helping reinvigorate business in Historic Kailua Village.
And a little farther up on Henry Street, Dave's Ice Cream has opened next to Blazin' Steaks at the Kona Crossroads Shopping Center.
Kailua Village Camera Update

A grant from Hawaii Tourism Authority to the county Police Department last year funded installation and activation of 15 surveillance cameras in eight locations throughout Historic Kailua Village.
Within a short period of time the cameras proved their worth as valuable tools in helping to deter crime and vandalism.
An additional five locations are slated for installation once HPD and HELCO come to terms on costs related to power charges.
KVBID is helping to make certain the cameras are installed, activated, and regularly monitored to help make Kailua Village a safer place to live, work and play.
Seven Miles, Seven Centuries

Nearly one year ago Alii Drive, roughly seven miles of roadway with seven centuries of history and more than two dozen impressive points of interest, was sponsored by Kailua Village Business Improvement District as a nominee to the Hawaii Scenic Byways program.
In June, the state Department of Transportation accepted the nomination, Royal Footsteps Along the Kona Coast and designated Alii Drive as the state's second Hawaii Scenic Byway later in the year. Throughout the lengthy Local Byway Committee meetings and a public open house were convened to gather input and oversight as the Corridor Management Plan was developed.
The National Scenic Byway program provides a framework that helps identify special roadways and develops plans and programs to manage and promote the roads and their surroundings. Scenic Byways are limited to those that tell a story, have outstanding qualities that need recognition or protection, and roads that will
benefit from a coordinated strategy for tourism and economic development.
KVBID and the Local Byway Committee are working toward designation of Alii Drive as a National Scenic Byway.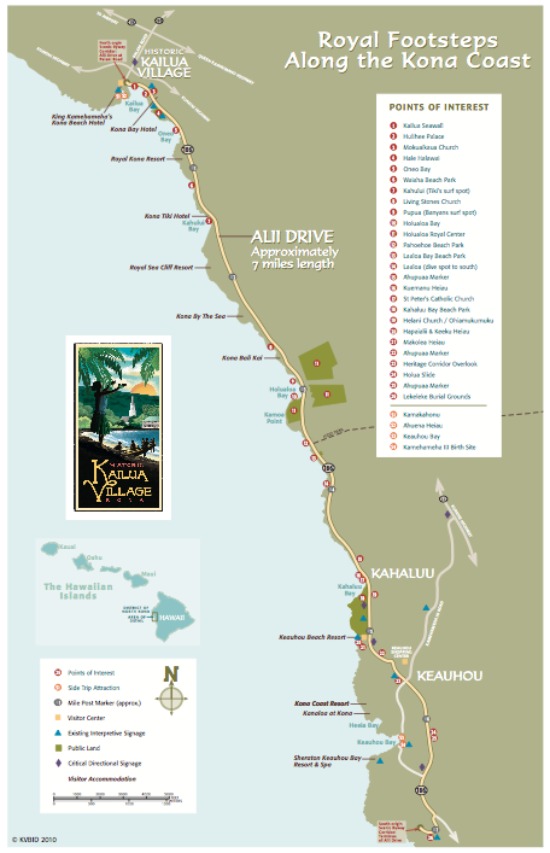 — Find out more:
www.KVBID.org