MEDIA RELEASE
The state Department of Labor and Industrial Relations has announced the seasonally adjusted unemployment rate for December remains at 6.4 percent, unchanged for the sixth consecutive month.
There were 593,350 employed and 40,250 unemployed in December, for a total seasonally adjusted labor force of 633,600. The preliminary annual average unemployment rate for 2010 is 6.6 percent compared to 6.8 percent in 2009.
Nationally, the seasonally adjusted unemployment rate decreased to 9.4 percent in December from 9.8 percent in November.
The unemployment rate figures for the State of Hawaii and the U.S. in this release are seasonally adjusted, in accordance with the U.S. Bureau of Labor Statistics (BLS) methodology. The not seasonally adjusted rate for the State dropped to 5.8 percent in December from 6.5 percent in November.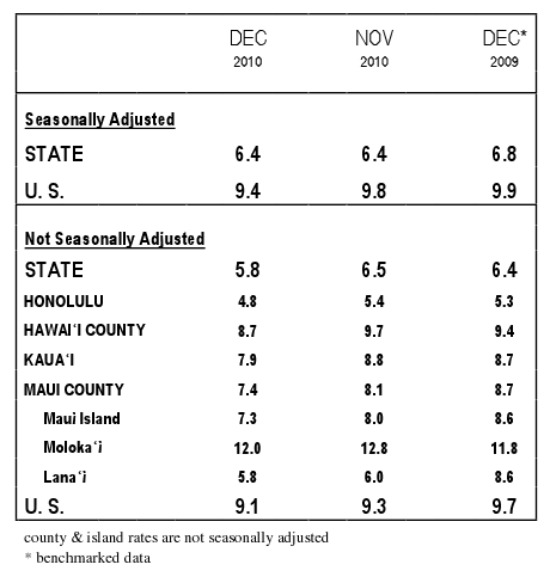 Industry Payroll Employment (Establishment Survey)

In another measure of employment, total seasonally adjusted nonagricultural jobs decreased by 3,900 or -0.7 percent to 589,800 in December.
The industries recording job growth included Educational and Health Services (+400); and Professional and Business Services (+200).
The sectors in the private sector reporting job declines were Construction; and Financial Activities (-200 each); Leisure and Hospitality; and Other Services (-400 each); and Trade, Transportation and Utilities (-1,000).
Government registered job decreases predominantly in State Government mainly due to releasing poll workers hired in the general election.
Over-the-year, from December 2009, the seasonally adjusted job count grew by 3,300 jobs or +0.6 percent. The industry that composed the largest proportion of job growth in the private sector was in Leisure and Hospitality (+3,500).
The preliminary average annual total nonagricultural job count is 589,600 in 2010, compared to 591,900 in 2009, a decrease of 2,300 jobs or -0.4 percent over-the-year.
* Educational and Health Services (+400)
This major industrial group reported a 400-job increase after slipping a month earlier. Educational Services trended up by 300 jobs in elementary and secondary schools; and colleges, universities, and professional schools. Health Care and Social Assistance composed the remaining 100-job gain in nursing and residential care facilities.
* Professional and Business Services (+200)
This series grew by 200 jobs, growing for the fourth consecutive month. Administrative and Support and Waste Management Services comprised the largest proportion of the job growth adding 800 jobs over-the-month. Majority of the increase was in employment services; and investigation and security services. Meanwhile, Professional, Scientific, and Technical Services shaved 600 jobs in architectural, engineering, and related services; as well as marketing research and public opinion polling.
* Construction (-200)
Construction trended down modestly after three straight months of job gain. Most of the decrease was attributed in special trade contractors in painting and wall covering contractors. Over-the-year, from December 2009, this volatile industry recorded a 400-job increase partly due to ongoing building activities.
* Financial Activities (-200)
Financial Activities edged down slightly by 200 jobs following a two-month job increase. Real Estate and Rental and Leasing rose by 200 jobs in commercial and industrial machinery and equipment rental and leasing. Finance and Insurance spiraled down trimming 400 jobs in both depository credit intermediation; and nondepository credit intermediation; and also in agencies, brokerages, and other insurance related activities.
* Leisure and Hospitality (-400)
Leisure and Hospitality recorded a 400-job loss after posting five consecutive months of job growth. Arts, Entertainment and Recreation edged down by 100 jobs in amusement and recreation industries. Accommodation and Food Services comprised the remaining 300-job decrease mainly in Food Services in full-service restaurants.
* Other Services (-400)
This miscellaneous sector dropped by 400 jobs after two straight months of job gain. Job losses were noted in business, professional, labor, political, and similar organizations; as well as in personal care services.
* Trade, Transportation, & Utilities (-1,000)
This major industrial group continued its downturn, contracting jobs for the fifth consecutive month. Wholesale Trade scaled back by 300 jobs in merchant wholesalers, nondurable goods. Retail Trade dipped by 600 jobs in different entities including building material and supplies dealers; gasoline stations; food and beverage stores; and motor vehicle and parts dealers. Transportation and Warehousing trended down by a mere 100 jobs in scenic and sightseeing transportation, land.
* Government (-2,300)
Government reported job losses in December. Federal Government trended up by a modest 100 jobs, while Local Government remained relatively unchanged for the second straight month. State Government fell by 2,400 jobs primarily due to the release of poll workers and election officials hired in the general election.
Technical Notes: Seasonal Adjustment

The seasonal fluctuations in the number of employed and unemployed persons reflect hiring (and layoffs) patterns that accompany regular events such as the winter holiday season and the summer vacation season.
These variations make it difficult to tell whether month-to-month changes in employment and unemployment are due to normal seasonal patterns or to changing economic conditions. To deal with such problems, a statistical technique called seasonal adjustment is used.
This technique uses the past history of the series to identify the seasonal movements and to calculate the size and direction of these movements. A seasonal adjustment factor is then developed and applied to the estimates to eliminate the effects of regular seasonal fluctuations on the data.
When a statistical series has been seasonally adjusted, data for any month can be more meaningfully compared with data from any other month or with an annual average.