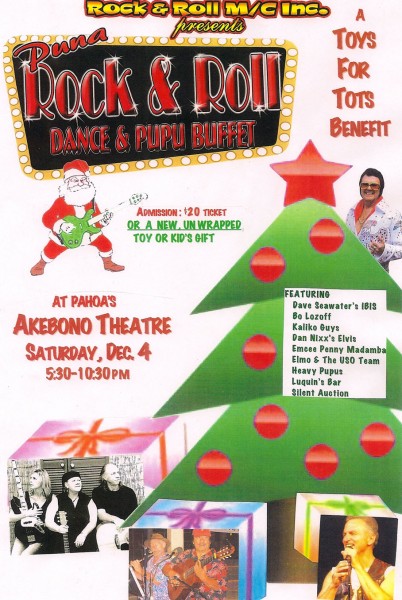 It's that time of the year again, and organizing the Pahoa Toys For Tots is well under way. This year it will take the form of a full-on Rock N Roll dance and pupu buffet at Akebono Theater on Saturday, Dec. 4 from 5:30 to 10:30 p.m.
Musicians donating their performances include Dave Seawater's IBIS, Bo Lozoff, Kaliko Guyz, and Dan Nixx as Elvis, with Penney Madamba serving as emcee. M J Svoboda and Maavae will be cooking up a storm to create a spread similar to the one they did for the Obama Inaugural Ball a coupla years back.
A silent auction will feature artworks from StoneFace Hawaii, Patti Pease Johnson, Charles Christian Hansen, Nelson and Kainoa Makua, Willie K and others, goodies from Big Island Candies, Mauna Kea Beach Hotel, Big Island Toyota as well as lots of R&R memorabilia and more. Silent auctions are great venues for getting some really nice holiday gifts at a fraction of their retail value!
Since it is a T4T benefit, admission is a $20 ticket OR a NEW, UNwrapped toy or child's gift. Luquin's will be manning the bar, so the event is only open to those 21 years and older. Of course, you'll have to pay for your own drinks. But the rest is included in the price of admission.
Please turn out to help celebrate the holidays and help the needy children in our community. It's gonna be rougher this year than last as many people's reserves are no more!
And anyone willing to donate a nice item to the silent auction should please call Frankie Stapleton at 965-8945. Since T4T is a non-profit, tax deductions are applicable for those donating to the cause!