Karin Stanton | Hawaii 24/7 Editor
Day 2 of the Ultraman World Championships is all about the bike. The 171.4-mile course runs the length of the island from Volcano to Hawi, via Hilo and Hamakua.
Sweden's Jonas Colting – the champion in 2004 and 2007 – had to fight off a 6-minute drafting penalty, but managed to extend his lead to 22 minutes, 46 seconds.
Behind him are Ultraman Hawaii rookie Slater Fletcher and Mike LeRoux, who finished fourth last year. Two-time defending champ Alexandre Ribeiro, of Brazil, sits in eighth.
Over on the women's side, they just can't leave the record books alone.
In her first Ultraman Hawaii, Hillary Biscay of Arizona scraped 26 minutes off the swim record Friday and, not to be left out, Amber Monforte of Nevada tore up the bike course with a new record time of 7:57:58. The previous record, set last year by Shanna Armstrong, was 8:39:40.
Monforte's excellent day gives her a 25 minute, 36 second lead over Biscay. Trailing them is Armstrong, who has six Ultraman world titles, including two of the four fastest women's times ever in Hawaii.
If the women want to break anymore records, they will be gunning for the run record of 7:12:07, which was set last year by Ann Heaslett, and the overall record of 25:45:51 set in 1989 by Tina Bischoff.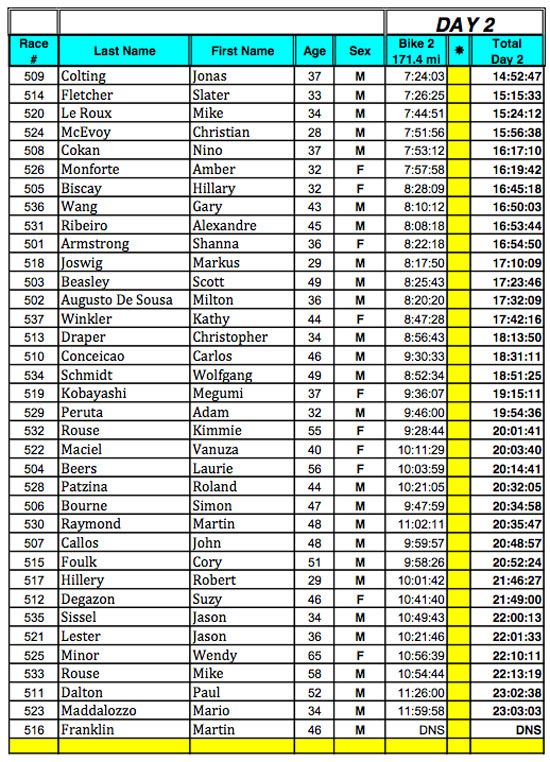 The Ultraman World Championships is a three-day stage triathlon totaling 320 miles that circles the Big Island.
Friday's Day 1 consisted of a 6.2-mile swim from Kailua Pier to Keauhou Beach, followed by a 90-mile bike from Keauhou to Volcano.
Saturday's Day 2 included a 171-mile bike from Volcanoes National Monument through Hilo and north to Hawi town.
Sunday's Day 3 is a 52.4 mile run from Hawi south along the Queen Kaahumanu Highway to the Old Kona Airport Park. The winner should be crossing the finish line sometime around noon.
— Find out more:
www.ultramanlive.com