Karin Stanton | Hawaii 24/7 Editor
Seismologists have recorded a 4.7 magnitude earthquake off the southwest coast of Maui at 6:34 p.m. Tuesday, Nov. 23.
The jolt was reported felt on Maui and Molokai.
That quake was followed by a 3.3 magnitude temblor 16 miles west of Hawi at 6:51 p.m.
No tsunami expected.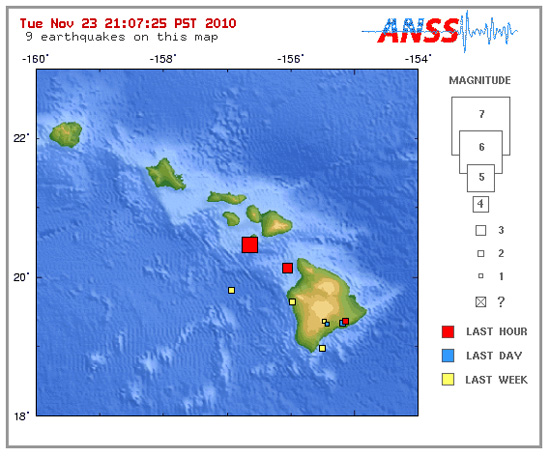 — Find out more:
earthquake.usgs.gov/earthquake…
—
Magnitude-4.3 earthquake between Maui and Kahoolawe
MEDIA RELEASE
A magnitude-4.3 earthquake occurred at 6:34 p.m. Tuesday, Nov. 23, and was located between Makena, Maui, and Kahoolawe at an estimated depth of 17 km (11 miles).
As of this morning, the USGS "Did you feel it?" Web site ( earthquake.usgs.gov/eqcenter/d… ) had received 1,207 felt reports, indicating that the earthquake was felt throughout the islands, from Oahu to Hawaii Island.
This earthquake is one of a dozen magnitude-4 and above earthquakes located beneath Haleakala volcano in the past 50 years. All these earthquakes have been located deeper than 10 km (6 miles) and are most likely structural adjustments of the Earth's crust due to the weight of the growing Hawaii Island.
Earthquake locations automatically posted last night on the HVO Web site ( tux.wr.usgs.gov ) suggested the magnitude-4.3 earthquake and two later, smaller ones — at 6:51 p.m. and 11:15 p.m. — occurred along the same northwest linear trend.
Closer examination of all three earthquakes confirmed that all epicenters were most likely located in the same area between Maui and Kahoolawe Islands, but the composite nature of the quakes will require further analyses to determine final parameters.
None of the earthquakes had any noticeable effect on the continuing eruption of Kilauea Volcano, nor did they produce any detectable changes at Haleakala Volcano.
For eruption updates and information on recent earthquakes in Hawaii, visit the Hawaiian Volcano Observatory website at hvo.wr.usgs.gov
The USGS provides science for a changing world. For more information, visit www.usgs.gov.