MEDIA RELEASE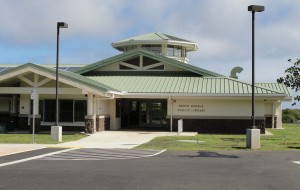 North Kohala Public Library, a new "green" library on the Island of Hawaii, will be dedicated in a grand opening ceremony and program on Monday, November 8 at 11 a.m. The Library will officially open at noon.
North Kohala Public Library offers creative and innovative design features such as wind and photovoltaic energy systems, water catchments and retention systems, and design elements to maximize ambient lighting and ventilation. "We fully anticipate that North Kohala Public Library will be the first HSPLS library to achieve the coveted LEED (Leadership in Energy and Environmental Design) Gold Certification," said State Librarian Richard Burns.
The $7.8 million, 6,000 square foot Library was designed by CDS International and is located at 54-3645 Akoni Pule Highway, on a 3.8 acre parcel of land donated by Surety Kohala Corporation. It will replace Bond Memorial Public Library which has served the community of Kohala for 81 years, and closed its doors for the last time on October 18.
The grand opening program will feature events such as a musical prelude of Hawaiian music performed by Matthew and Rosalind Kupukaa, "Hawaii Pono'i" sung by the Kohala Senior Citizens Club, an ukulele performance by Kohala Middle School students; congratulatory messages presented by Governor Linda Lingle, Congressional members, a Board of Education representative, architect Glenn Miura of CDS International, Boyd Bond and State Librarian Richard Burns; a Hawaiian blessing led by Kahu Kealoha Sugiyama and Kahu Kaulana Scalise; and a tour of the Library.
North Kohala Public Library will feature: shelving capacity of 35,000 materials, or double the size of the current Library's collection; a spacious circulation desk area; 10 public computers (twice the amount of the current facility) offering Internet access, database searching, word processing and other software, and a meeting room to host community gatherings, events, and Library programs.
North Kohala Public Library's telephone number will be (808) 889-6655 and public service hours will be Monday, from noon to 8 p.m.; Tuesday, Wednesday, Thursday from 9 a.m. to 5 p.m.; Friday from 9 a.m. to 4 p.m.; Saturday, Sunday-Closed.