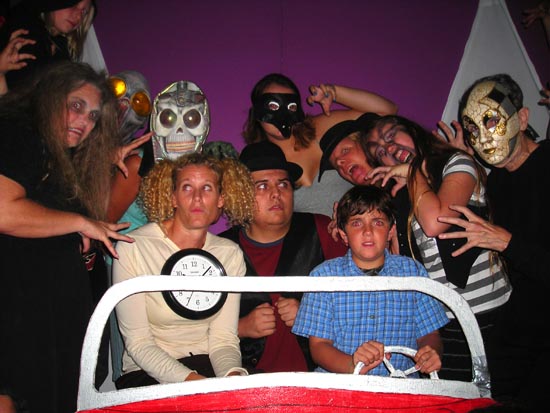 MEDIA RELEASE
Adults will enjoys the puns and more understated humor, everyone will enjoy the bright costumes and set and energy our child and adult actors bring to the stage.
Simon Ellis, a seventh grader at Konawaena Middle School, stars as Milo, the hero of "The Phantom Tollbooth," the next production of the Aloha Performing Arts Company. The show is an adventure fantasy by Susan Nanus, based on the book by Norton Juster, and features a multigenerational cast of adults, teens, and children.
Performances run through Oct. 24 at the Aloha Theatre in Kainaliu.
The Phantom Tollbooth is a children's adventure novel and a modern fairy tale. It tells the story of a bored young boy named Milo who unexpectedly receives a magic tollbooth one afternoon and, having nothing better to do, drives through in his toy car. The tollbooth transports him to a fantasy land called the Kingdom of Wisdom.
There he acquires two faithful companions, has many adventures, and goes on a quest to rescue the princesses of the kingdom, Princess Rhyme and Princess Reason. The story is full of puns, and many events, like Milo's sudden jump to the Island of Conclusions, are the consequences of taking English language idioms literally.
Accompanying Milo are Tock the Watchdog, played by Jennifer Petersen, and the Humbug, portrayed by Alec Lugo. On the way, the trio meets a variety of outlandish characters, including Tanner Riley as the Whether Man, Pierce Marr as the Spelling Bee, Zoe Mueleip as the Dodecahedron, Maya Krauss as Princess Sweet Rhyme, Mackenzie McFadden as Princess Pure Reason, Renee Brown as the Mathemagician, Chuck Makanui as King Azaz the Unabridged, Cathy Riehle as the Pagekeeper, Samantha Michalicek as Doctor Dischord, Maddy Bram as the Awful Dynne, Sara Frazier as the Terrible Trivium, Bowen Ressler as the Demon of Insincerity, Paula Cornwell as the Everpresent Wordsnatcher, and Laurie Wilson as the Senses Taker.
Also in the cast is an ensemble of actors playing multiple characters: William and Nicholas Wong, Gemma Palleschi, Savannah Harriman-Pote, Kalela Laurelin, Cathy Ellis, James Kelsey, Elijah Lawrence, Kea Kauka, Eden Hershberger, Nicole Aragon, Patrick Riehle, Jacques Liquie, and Tara, Keaton, and Regan Riley.
Jerry Tracy is directing the show, assisted by Caitie Johnson-Underwood, and producers are Felicity Johnson and Dale Ross. Paula Cornwell is heading up the costume and property teams, Gerald Lucena is set designer, Bryan Riley is stage manager, and Eileen Weiner is composing original incidental music.
Performances are:
* Friday, Oct. 15 at 7:30 p.m.
* Saturday, Oct. 16 at 7:30 p.m.
* Sunday, Oct. 17 at 2:30 p.m.
* Friday, Oct. 22 at 7:30 p.m.
* Saturday, Oct. 23 at 7:30 p.m.
* Sunday, Oct. 24 at 2:30 p.m.
Reserved Seating
$15 Adults
$12 Seniors
$10 Students
Tickets Available at the door 1 hour prior to showtime and online here and via phone at 322-9924.
Tickets are $10 for students, $12 for senior citizens, and $15 for adults, and are available online at alohatheatre.com, by phone at 322-9924, or at the box office beginning one hour prior to performance time. For more information, call 322-9924.