Karin Stanton | Hawaii 24/7 Contributing Editor
The Lavaman Keauhou 2010 titles will stay not only in town, but in the same household.
Newly weds Penn Henderson and Rani Tanimoto won the men's and women's crowns Sunday morning in the second annual running of the Olympic distance triathlon.
Henderson crossed the finish line in 2 hours, 27 seconds; Tanimoto came in at 2:18:24.
It marked Henderson's first triathlon win.
"It was tough. The swim had good conditions, but I knew I had to have a good bike. And the run was no cake walk," he said. "I was just glad to be able to finish strong."
Henderson said he about 15 or 20 athletes beat him out of the water, but he was confident starting the bike leg.
"I know I can't outrun some of these guys, so I've got to win it on the bike," he said. "I pretty much caught everyone by the turnaround. On the run, I just knew everyone else is suffering more."
Tanimoto cruised across the finish line 13th overall.
"It couldn't have been more perfect," she said. "This is fun. It makes it all worthwhile and really re-inforces all the hard training. The swim was so clear; it makes a big difference when you can see the markers. And the run was really challenging – hot and hilly, but a beautiful course."
Henderson and Tanimoto, who were married about one month ago, already have qualified for next month's Ironman World Championships.
See results below.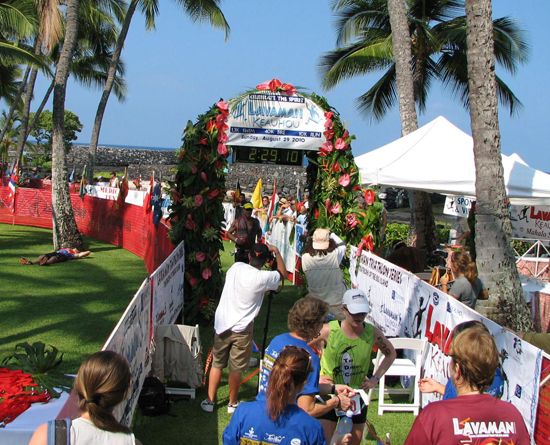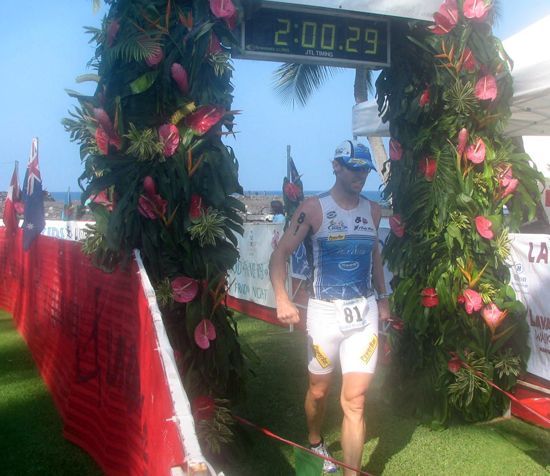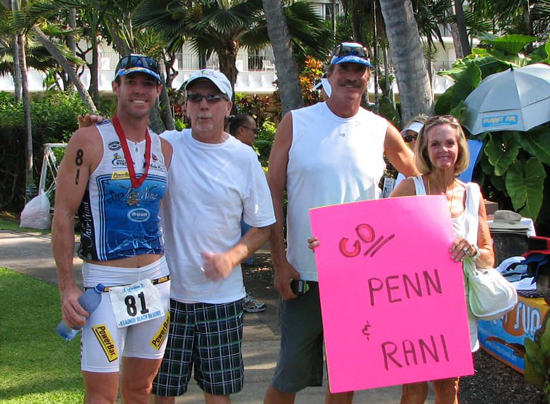 Overall Results
 Plc Name                     Fem   Swim    Bike     Run    Overall

   1 Penn Henderson #81            :23:20   :57:05  :40:02  2:00:27
   2 Luis DelaTorre #1             :21:36  1:02:40  :37:23  2:01:39
   3 Greg Price #99                :21:57  1:03:15  :37:59  2:03:11
   4 Sam Corace #29                :23:14  1:01:00  :40:14  2:04:28
   5 Mark Geoghegan #172           :24:37  1:04:25  :37:35  2:06:37
   6 Benjamin Williams #23         :23:11  1:04:36  :40:04  2:07:51
   7 Jano Soto #173                :23:08  1:04:13  :42:49  2:10:10
   8 Spencer Cocanour #80          :23:16  1:05:34  :41:49  2:10:39
   9 Jason Lamoreaux #45           :26:42  1:01:41  :43:28  2:11:51
  10 Andrew Graham #32             :21:48  1:07:40  :42:42  2:12:10
  11 Roberto Wharton #63           :29:07  1:03:55  :42:16  2:15:18
  12 Dale Fediuk #42               :24:12  1:06:14  :45:04  2:15:30
  13 Rani Tanimoto #59         1   :24:57  1:11:24  :42:03  2:18:24
  14 Markus Van Achte #128         :21:46  1:08:01  :49:07  2:18:54
  15 David Fediuk #61              :24:55  1:11:41  :43:13  2:19:49
  16 Eugene Tschudy #114           :28:38  1:08:01  :44:47  2:21:26
  17 Jim Ragual #70                :24:28  1:10:37  :46:48  2:21:53
  18 Edwin Herd #124               :25:25  1:07:50  :49:34  2:22:49
  19 Mark Want #129                :27:15  1:11:26  :46:18  2:24:59
  20 Mathew Adams #56              :26:36  1:08:53  :50:04  2:25:33
  21 Charles Becerra #89           :25:13  1:11:37  :50:21  2:27:11
  22 Kirk Mitchell #30             :22:01  1:16:43  :48:30  2:27:14
  23 Ed Letourneau #169            :28:51  1:11:13  :48:18  2:28:22
  24 Andrea Bess #47           2   :26:50  1:10:52  :50:53  2:28:35
  25 Kris Kiser #103               :31:15  1:08:52  :48:38  2:28:45
  26 Stephen Dewald #94            :26:06  1:13:06  :49:58  2:29:10
  27 Brandon Perea #12             :25:15  1:11:44  :52:35  2:29:34
  28 Rebecca McKee #76         3   :27:25  1:13:15  :49:40  2:30:20
  29 Amy Cocanour #86          4   :24:56  1:13:55  :51:50  2:30:41
  30 Kymberly Kiser #69        5   :27:56  1:11:02  :52:41  2:31:39
  31 Daniel Hodel #158             :31:37  1:16:18  :44:09  2:32:04
  32 Hannah Bakke #18          6   :22:36  1:16:58  :52:41  2:32:15
  33 Joseph Wedemann #109          :28:43  1:10:31  :53:32  2:32:46
  34 Noel Mackisoc #121            :28:38  1:13:13  :51:06  2:32:57
  35 Craig Leeper #149             :26:02  1:12:41  :55:49  2:34:32
  36 Todd Meadows #90              :34:25  1:07:48  :53:34  2:35:47
  37 Doug Henbest #95              :28:59  1:13:59  :53:17  2:36:15
  38 Ryan Lopossa #73              :25:53  1:19:28  :52:48  2:38:09
  39 Marcos Azua #28               :26:44  1:15:45  :55:49  2:38:18
  40 Johan M Boakes #93            :28:18   :  :   2:10:16  2:38:34
  41 Brian Yannutz #13             :31:23  1:16:01  :51:25  2:38:49
  42 Korey Pulluaim #17            :25:27  1:14:46 1:00:33  2:40:46
  43 Net Payne #87                 :31:48  1:17:07  :51:54  2:40:49
  44 Ed Roeters #161               :35:47  1:12:28  :52:48  2:41:03
  45 Edward Ignacio #51            :34:22  1:17:49  :48:58  2:41:09
  46 Annamari Fuls #40         7   :27:54  1:19:55  :55:24  2:43:13
  47 Clint Anderson #35            :32:05  1:19:58  :51:11  2:43:14
  48 Doug Wilkerson #137           :28:36  1:14:49 1:01:38  2:45:03
  49 Solomon (kawika Singson       :34:16  1:18:15  :52:36  2:45:07
  50 Kevin Rooney #105             :30:18  1:18:52  :57:01  2:46:11
  51 Daniel Berman #146            :31:12  1:25:03  :49:59  2:46:14
  52 Aaron Mitchell #22            :24:45  1:16:54 1:05:09  2:46:48
  53 Michael Woodbury #167         :32:39  1:18:51  :55:55  2:47:25
  54 Kaeti Ecker #162          8   :27:10  1:22:52  :57:26  2:47:28
  55 Todd Robilliard #31           :28:01  1:18:51 1:00:39  2:47:31
  56 Susan Nixon #92           9   :30:12  1:20:43  :56:45  2:47:40
  57 Michael Hrynevych #108        :39:23  1:17:13  :51:05  2:47:41
  58 Timothy Christopher #102      :28:53  1:21:45  :57:07  2:47:45
  59 Jerry Ewing #164              :31:13  1:24:02  :52:54  2:48:09
  60 Allison Alterman #11     10   :24:42  1:21:19 1:02:10  2:48:11
  61 Stephen Cosgrove #116         :32:28  1:20:05  :55:53  2:48:26
  62 Mark Mahaney #127             :28:22  1:19:50 1:00:32  2:48:44
  63 Belinda Herd #122        11   :34:47  1:20:35  :53:43  2:49:05
  64 Jessica Abner #25        12   :29:04  1:23:33  :56:38  2:49:15
  65 Alika Ho'Omana #33            :27:59  1:21:37 1:00:19  2:49:55
  66 Samuel Best #65               :34:40  1:18:11  :57:38  2:50:29
  67 Cory McCord #20               :28:39  1:09:59 1:11:56  2:50:34
  68 James Boone #71               :31:22  1:26:41  :52:35  2:50:38
  69 Christopher Curry #15         :28:57  1:25:13  :57:01  2:51:11
  70 James Sakai #143              :31:07  1:21:28 1:00:13  2:52:48
  71 Kenji Hara-Joesting #43       :30:49  1:16:22 1:05:45  2:52:56
  72 Bobbi Reif-Acheson #135  13   :24:48  1:27:51 1:00:22  2:53:01
  73 Rick Rubio #150               :29:19  1:23:57 1:00:47  2:54:03
  74 Dane Decker #166              :31:21  1:31:31  :53:11  2:56:03
  75 Sarah Higgins #48        14   :33:04  1:23:57 1:00:14  2:57:15
  76 Mike Hamilton #155            :35:53  1:20:30 1:02:17  2:58:40
  77 Ananda Missler #34            :31:04  1:27:28 1:00:09  2:58:41
  78 Sandra Kimball #107      15   :28:52  1:24:50 1:06:10  2:59:52
  79 Richard McDowell #160         :31:40  1:30:37  :57:51  3:00:08
  80 Mark Johnson #165             :31:36  1:28:08 1:00:44  3:00:28
  81 Mitchel Gelina #97            :34:58  1:34:09  :51:54  3:01:01
  82 Brandon Kagawa #38            :29:55  1:28:06 1:03:35  3:01:36
  83 Brendan McKee #174            :39:57  1:14:24 1:07:53  3:02:14
  84 Nicole Mailhot #19       16   :28:33  1:33:56  :59:49  3:02:18
  85 Una Burns #111           17   :37:58  1:28:46  :55:49  3:02:33
  86 Yanis Nora #16                :33:29  1:23:14 1:06:37  3:03:20
  87 Mac Amos #171                 :35:04  1:30:35  :59:44  3:05:23
  88 Wendy Minor #168         18   :32:38  1:23:43 1:09:14  3:05:35
  89 Sven Carlberg #57             :31:19  1:19:41 1:14:53  3:05:53
  90 Mark Macinnis #84             :31:36  1:27:48 1:06:38  3:06:02
  91 Jim Moore #152                :29:13  1:33:12 1:03:56  3:06:21
  92 Robert Puaokalani #142        :27:14  1:38:19 1:00:56  3:06:29
  93 Masato Yamane #110            :37:17  1:30:10  :59:34  3:07:01
  94 Steve Hudak #37               :30:58  1:31:42 1:04:43  3:07:23
  95 Jay Plasman #91               :29:31  1:28:03 1:10:17  3:07:51
  96 Dene'Dene' Sturm #112    19   :28:40  1:26:45 1:12:33  3:07:58
  97 Jason Wiener #75              :35:32  1:27:17 1:05:15  3:08:04
  98 Nathan Cook #50               :29:09  1:31:31 1:07:45  3:08:25
  99 Michael Kelly #156            :38:12  1:29:18 1:01:30  3:09:00
 100 M Oneill #98                  :26:13  1:34:42 1:08:53  3:09:48
 101 Cassidy Landes #53       20   :32:46  1:32:32 1:04:58  3:10:16
 102 Jackie Honeyfield #41    21   :36:43  1:41:57  :53:33  3:12:13
 103 Nathaniel Clark #21           :30:23  1:35:39 1:07:23  3:13:25
 104 Michael Traub #151            :34:29  1:32:35 1:07:33  3:14:37
 105 Manu Hanano #133         22   :30:29  1:39:03 1:08:41  3:18:13
 106 Ellie Sumic #101         23   :38:18  1:31:39 1:08:38  3:18:35
 107 Ellen Jackson #153       24   :38:16  1:31:38 1:08:55  3:18:49
 108 Vicki Pendergrass #134   25   :36:08  1:32:41 1:10:14  3:19:03
 109 Don Perea #104                :28:15  1:30:15 1:21:15  3:19:45
 110 Glen Lukasik #46              :36:02  1:37:41 1:06:07  3:19:50
 111 Jason Honeyfield #58          :34:22  1:40:14 1:05:43  3:20:19
 112 Saesha Rae Denny #67     26   :37:29  1:40:29 1:03:24  3:21:22
 113 Stephen Hicks #126            :29:06  1:26:34 1:26:56  3:22:36
 114 Taj Flora #36                 :37:43  1:40:13 1:04:56  3:22:52
 115 Lee Collins #144         27   :29:02  1:35:51 1:19:59  3:24:52
 116 Charlie Camacho #123          :31:42  1:26:06 1:27:36  3:25:24
 117 Chris Austin #85         28   :45:39  1:42:00  :59:24  3:27:03
 118 Laura Rogers #140        29   :35:38  1:40:36 1:11:24  3:27:38
 119 Ricky Yamato #88              :36:38  1:39:12 1:14:40  3:30:30
 120 Travis Obrey #83              :30:59  1:39:50 1:19:50  3:30:39
 121 Ted Spitaleri #163            :37:56  1:30:51 1:22:04  3:30:51
 122 Natalia Mastrascusa #27  30   :38:44  1:46:38 1:12:27  3:37:49
 123 Isaac Akashi #159             :40:09  1:42:31 1:16:21  3:39:01
 124 Kimberly Rabideau #64    31   :40:02  1:38:52 1:22:39  3:41:33
 125 Douglas Maginot #141          :34:29  1:37:18 1:29:55  3:41:42
 126 Bill Hubbard #138             :35:40  1:29:35 1:36:31  3:41:46
 127 Chitwin San Tun #100          :45:18  1:47:01 1:11:55  3:44:14
 128 Diana Holt #139          32   :40:05  1:41:20 1:23:30  3:44:55
 129 Antoinette Reynolds #119 33   :37:25  1:37:38 1:30:20  3:45:23
 130 Keola Wimbish #24             :39:59  1:42:07 1:23:48  3:45:54
 131 Sharon Cislo #157        34   :40:56  1:38:06 1:27:39  3:46:41
 132 Randall Cislo #148            :41:04  1:38:09 1:27:30  3:46:43
 133 Sheareen Gedayloo #132   35   :34:45  1:51:30 1:21:08  3:47:23
 134 Brad Dalton #136              :38:05  1:34:56 1:37:07  3:50:08
 135 Wilma Moniz #55          36   :46:13  1:46:08 1:21:05  3:53:26
 136 Robert Ching #66              :40:44  1:43:50 1:31:58  3:56:32
 137 Dennis Burns #147             :46:03  1:46:13 1:24:17  3:56:33
 138 Sarah Stoebner #14       37   :40:11  1:51:55 1:25:07  3:57:13
 139 Patricia Welter (henders 38   :40:48  1:45:25 1:33:17  3:59:30
 140 Elroy Fischer #154            :38:07  1:47:47 1:33:36  3:59:30
 141 Kathlene Kirchner #39    39   :31:39  1:57:12 1:36:33  4:05:24
 142 Billy Weaver #170             :40:27  1:52:28 1:41:43  4:14:38
 143 Mark Mangibin #82             :40:23  1:57:40 1:41:10  4:19:13
 144 Ann Kingdon #145         40   :58:04  1:46:26 1:45:08  4:29:38
 145 Angela Kenyon #26        41   :40:41  2:02:57 1:59:48  4:43:26

Division Relay Results
Place  Name                                      Swim     Bike     Run  Overall

   1 Leahi Camacho #321       Mixed            :21:31  1:01:19  :36:31  1:59:21
     Gary Shields
     Jason Braswell
   2 JP Friend #303           Men              :20:21  1:05:52  :39:24  2:05:37
     Grant Miller
     Eric Neilsen
   3 Wendy Daniel #313        Mixed            :23:29  1:04:28  :49:44  2:17:41
     Douglas Leopold
     Douglas Leopold
   4 Alisa Prendergast #323   Mixed            :21:34  1:14:21  :49:53  2:25:48
     Phil Prendergast
     Jeff Coburn
   5 Aimee Kolman #326        Women            :20:47  1:17:26  :49:09  2:27:22
     Janet Higa-Miller
     Kerstin Busse
   6 Madison Hauanio #318     High Schoo       :20:42  1:20:52  :46:29  2:28:03
     John Cole
     Ziggy Bartholomy
   7 Eliza Graham #330        Women            :27:38  1:17:53  :43:33  2:29:04
     Eliza Graham
     Ali Herd
   8 Patrick Mitchell #311    Mixed            :27:50  1:07:50  :57:53  2:33:33
     Patrick Mitchell
     Somer Mitchell
   9 Douglas Dierenfield #304 Men              :28:30  1:15:32  :54:48  2:38:50
     Norm Goody
     Evan Matsuyama
  10 Kristine Leeper #317     Mixed            :26:22  1:14:41  :59:28  2:40:31
     George Goldstine
     Cory Crockett
  11 Israel Gonzales #305     Men              :27:08  1:22:52  :51:17  2:41:17
     Eddie Ombac
     Danny Jesser
  12 Tom Whittemore #307      Men              :29:22  1:19:01  :54:58  2:43:21
     Georg Kissner
     Robert Ritchie
  13 Dawn Henry #322          Mixed            :28:35  1:25:38  :49:09  2:43:22
     Frank Snow
     Pascale Fasciano
  14 Ashley Vaillant #315     Mixed            :24:19  1:23:32 1:01:48  2:49:39
     Sandoz Maurer
     Bill Nicot
  15 Nathaniel Romeo #320     Mixed            :39:12  1:20:05  :52:41  2:51:58
     Daniel Johnson
     Tanya Gusarchuk
  16 Karolina Wanke #331      Mixed            :26:52  1:20:29 1:05:37  2:52:58
     Greg Payton
     Kristin Basken
  17 Verena Rohde #309        Kupuna           :26:40  1:24:47 1:01:33  2:53:00
     Michael Drutar
     Michael Drutar
  18 Chloe Hudson #329        Women            :30:20  1:24:10 1:02:35  2:57:05
     Michelle Mkeon
     Leyla Morris
  19 Virginia Isbell #308     Kupuna           :58:46  1:10:42  :50:59  3:00:27
     Harry Yoshida
     Jon Kunitake
  20 Bud Quitquit #301        Men              :29:25  1:39:20  :52:22  3:01:07
     William Degele
     Bud Quitiquit
  21 Jane Deirenfield #328    Women            :27:31  1:26:18 1:07:23  3:01:12
     Jane Murphy
     Wendy Clark
  22 Michael Neubauer #314    Mixed            :26:23  1:34:13 1:02:09  3:02:45
     Cathy Neubauer
     Michael Neubauer
  23 Serenca Chamberlain #319 Mixed            :27:53  1:19:22 1:16:04  3:03:19
     Jessie Taylor
     Lisa Pickell
  24 Jennifer Hanson #324     Women            :25:10  1:39:20 1:00:02  3:04:32
     Shannon Jacob-Kline
     Jennifer Hanson
  25 Justin Butler #302       Men              :28:01  1:46:39  :51:05  3:05:45
     Albert Martinez
     Mike DeCarli
  26 Mindy Gruber #312        Mixed            :29:17  1:30:24 1:09:48  3:09:29
     Gerald Gruber
     Gerald Gruber
  27 Jake Harris #306         Phys Chall       :29:24  2:07:54  :57:20  3:34:38
     Jake Neubauer
     Jeff Neubauer
  28 Jeannette Vidgen #327    Women            :28:13  1:52:40 1:17:29  3:38:22
     Anabelle Smith
     Diane Quitiquit
  29 Alani Liu #325           Women            :38:39  1:42:21 1:20:49  3:41:49
     Carol Hanna
     Alani Liu
Full results at JTL Timing Systems