MEDIA RELEASE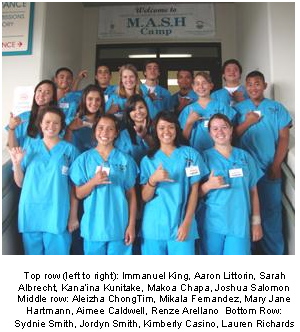 Kona Community Hospital (KCH) and Ke Ānuenue Area Health Education Center (AHEC) hosted their fourth M.A.S.H. (Medical Academy of Science and Health) Camp on July 19 and 20 at Kona Community Hospital. Four years ago, marked the first M.A.S.H. Camp for the state of Hawaii, and now with its sucess, has grown to other neighbor islands.
Fifteen intermediate and high school students from the local community participated in the two-day program. It covered 10 different health care careeers includin diagnostic imaging, radiation oncology, orthopedic surgery, laboratory, pharmacy, rehabilitation services, medical records and more. They were also given beneficial information about occupations in these fields such as years of education required, salary ranges, and the pros and cons about the jobs.
"We see this as a unique opportunity for our youth to explore a career in healthcare by working with our professional staff who is excited to share their knowledge and experience with the kids," commented Earl Greenia, CEO of Kona Community Hospital and Kohala Hospital.
"This was the largest and most diverse group we have had so far with six boys and six kids that have parents who work at the hospital," commented Emily Mendez-Bryant, Community Relations Director for KCH. "It was extremely exciting to see them really interested in healthcare even if they were undecided. They kept asking questions and the healthcare professionals who were involved in the camp were so happy to help them."
One of the main highlights of M.A.S.H. Camp included the Operating Room's presentation "The Nitty Gritty of Surgery", that offered students a hands-on, interactive chance to perform mock surgery on an unsuspecting victim — a green bell pepper. Students wore surgery attire and utilized an endoscopy machine to extract one bell pepper seed. The kids enthusiastically took turns to carry out the surgical procedure. Renze Arellano, eighth grader at Kealakehe Intermediate School, excitedly inquired about how to become a surgeon and said this may be what he would like to do when he grows up. "I will definitely let my friends know about this program and that they should participate," he commented. "It has helped me think about what I want to do."
Nicole Moore, Executive Director for Ke Ānuenue AHEC, notes that M.A.S.H. Camp helps young people to consider career opportunities they might not otherwise be aware of. "Without the support of Kona Community Hospital, we would not be able to reach this important target group with such an innovative, hands-on program."
When students apply to M.A.S.H. Camp, they are required to write an essay on why they want to go to M.A.S.H. Camp. Sarah Albrecht, a tenth grader at Konawaena High School, wrote, "M.A.S.H. Camp is an excellent way for me to find a future career. I have always been interested in science and math, but I have not found the right career fit for me. This camp can give me a feel for the different career options that fit my interests."
The program included the two-day camp, lunch and a set of scrubs. The students were also provided with a backpack full of resources. The wrap-up session on the last day included cake, along with a graduation ceremony where all the students received a certificate of completion.