MEDIA RELEASE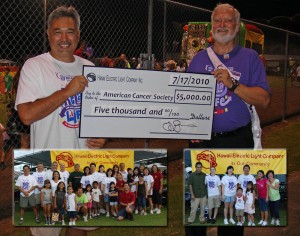 (HILO)—The American Cancer Society has received a $5,000 grant from Hawaii Electric Light Company (HELCO) to support its Relay for Life events on the Big Island.
"HELCO is very proud to be able to support such an important community event," said HELCO President Jay Ignacio. "Relay for Life not only educates participants on cancer prevention and wellness. It also brings our community together in the spirit of giving, hope, and remembrance."
In addition, HELCO proudly participated in the Relay for Life event held on July 17-18 at the Francis Wong Stadium in Hilo. The HELCO team of more than 30 employees and their families joined together to raise $4,200 for the American Cancer Society. The American Cancer Society (ACS) Hawaii Pacific is part of a nationwide, community-based, voluntary health organization dedicated to eliminating cancer as a major health problem throughout the Hawaiian Islands. The ACS carries out its mission through research, education, advocacy, and service. The ACS also provides comprehensive cancer information 24/7; transportation to treatment; peer support group programs; resources for practical assistance; and early detection, prevention and wellness programs.
"HELCO and its employees have supported the ACS Relay for Life for more than 15 years," said Jackie Young, Ph.D., chief staff officer for mission. "Each year, approximately 50 employees in Hilo, Waimea and Kona have consistently participated in this overnight event. This grant will help the American Cancer Society continue to provide cancer information, programs and services to Hawaii residents at no cost."
The Relay begins with a victory lap led by dozens of cancer survivors followed by a survivor reception held in their honor. The presence of dozens of cancer survivors at the event reinforces a message of hope, the importance of early detection, and the need for family support. The event also features a Luminaria Ceremony, entertainment, activities, silent auction, and educational exhibits.