Karin Stanton | Hawaii 24/7 Contributing Editor
The ties between the White House and Hawaii are pretty well known, but a Big Island genealogy company has found some new ones.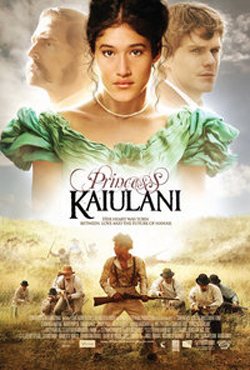 Bruce and Kristine Harrison, founders of the Family Forest® Project, have tracked back through time to link the first family to Sanford Ballard Dole, who was president of the Republic of Hawaii between 1894-1900.
Dole, who later served as the first Territorial Governor of Hawaii, is a leading character in a new movie, "Princess Kauilani."
"When Sasha and Malia are watching the movie with the First Dad, as they probably will, they should know that they have family ties to one of the central characters in the movie," Harrison said.
President Barack Obama – and his daughters Sasha and Maila – and Dole, who died in 1926, share ancestors. Dole and the first daughters are seventh cousins, but are four times removed (meaning one generation further from him than their father).
Dole, played by Will Patton, is featured in "Princess Kaiulani," which follows her life from Honolulu through her education in Victorian England, the announcement of the overthrow of the Kingdom of Hawaii, her campaign to convince the United States to reverse the overthrow, and her return to Hawaii.
After debuting last year at the Hawaii International Film Festival, "Princess Kaiulani" opens this weekend. It will show at Keauhou Cinemas 7 and Makalapua Cinemas in Kona.
The Family Forest® National Treasure Edition can also lead Sasha and Malia through their own ancestral pathways to ancestors who are portrayed in famous motion pictures by Hollywood icons such as Katharine Hepburn.
This edition of the Family Forest® is called National Treasure because it can connect more Americans through generation-by-generation family ties to more American history (people, places, and events) than any other resource.
Every parent who wants their children to excel and achieve excellence in school, and consequently in life, should give them full access to the Family Forest®. The National Treasure can connect millions of people personally, through their own family ties, to actual national treasures found at the National Museum of American History.
Also, the National Treasure was made in Hawaii. It is in effect a gift to the nation from Hawaii, and an inspirational resource that Hawaii's senators and representatives can share with their Washington colleagues.
— Find out more:
www.familyforest.com
www.princesskaiulanimovie.com/
President Obama's Ancestors-at-a-glance™ can be found at: familyforest.com/resources