* Kealakehe High School, 6:30 p.m. Thursday, April 29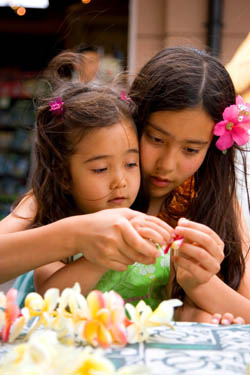 King Nerony Slade, son of Matthew and Corinna Slade; and Queen Kilihea Inaba, daughter of Don and Kawehi Inaba, will reign as Hawaiian royalty at Kealakehe High School's annual evening May Day Cultural Celebration. The event, open to the public, will be held on Thursday, April 29, in the school's gymnasium.
This year's program, entitled, "Ku I Ka Mana" will start at 6:30 PM.  Come early to visit our vendors. Admission is $3.
This will be a great family event and the community is invited to attend and experience the excitement and creativity that exudes from the students of Kealakehe High School.
* Queens' MarketPlace, noon-6 p.m. (concert at 4:30 p.m.), Saturday May 1
Visitors to the springtime festivities can experience colorful Hawaiian culture through the artistry of master lei-makers presenting their works of "living art." And then, the spotlight shines on Hawaiian music and hula in the Waikoloa Bowl at Queens' Gardens, as some of the Big Island's favorite dancers and entertainers take the stage.
All through the day, May Day entertainment and activities are open to visitors and residents alike: lei-making, keiki hula,coconut frond weaving, lei contest, lei demonstrations and entertainment by Halau Na Pua O Uluhaimalama — Kumu Hula Emery Aceret, Rolinda Bean, The Kupukaas, Darlene Ahuna and the coronation of the May Day Queen at the Coronation Pavilion.
The performance, Liko Ka Palapalai, directed by Kumu Keala Ching, presents a fabulous selection of Hawaii music, hula and song, starring great entertainers like John Keawe, Olomana, Frank K. Hewett, Kumu Hula Ula Hewett, Kainani Kahaunaele, Aunty Diana Aki and more.
Keiki from Aha Punana Leo Hawaiian immersion school will perform, and dancers from Ka Pa Hula Na Wai Iwi Ola, Na Lei O Kaholoku and Beamer-Solomon Halau O Poohala grace the stage with hula under the stars. Tickets are $15, $25 reserved seating, and proceeds benefit the hālau and the school. Liko Ka Palapalai is an alcohol-free event — no coolers please.
For more information, call Queens' MarketPlace, 886-8822 or visit www.WaikoloaBeachResort.com
Schedule of May Day Events at Queens' MarketPlace:
Coronation Pavilion
Free Admission
noon-6 p.m. Lei-making, coconut weaving, lei demonstrations and more
noon-2 p.m. Halau Nā Pua O Uluhaimalama, Kumu Hula Emery Aceret
2-3 p.m. Rolinda Bean
3 p.m. Coronation of the May Day Queen, Donna Jensen
3:30-5 p.m. Darlene Ahuna
5-6 p.m. The Kupukaas
Waikoloa Bowl at Queens' Gardens
Tickets $15 lawn seating, $25 reserved, Keiki under 12 free
3:30 p.m. Doors open
4:30 p.m. Opening Pule
4:45 p.m. Hoike: "Liko Ka Palapalai" with the Keiki of Aha Punana Leo, John Keawe, Frank K. Hewett, Olomana, Kainani Kahaunaele, Aunty Diana Aki, Ka Pa Hula Na Wai Iwi Ola (Kumu Hula Keala Ching), Kumu Hula Ula Hewett, Na Lei O Kaholoku (Kumu Hula Nani Lim), Beamer-Solomon Hālau O Poohala (Kumu Hula Hulali Solomon Covington)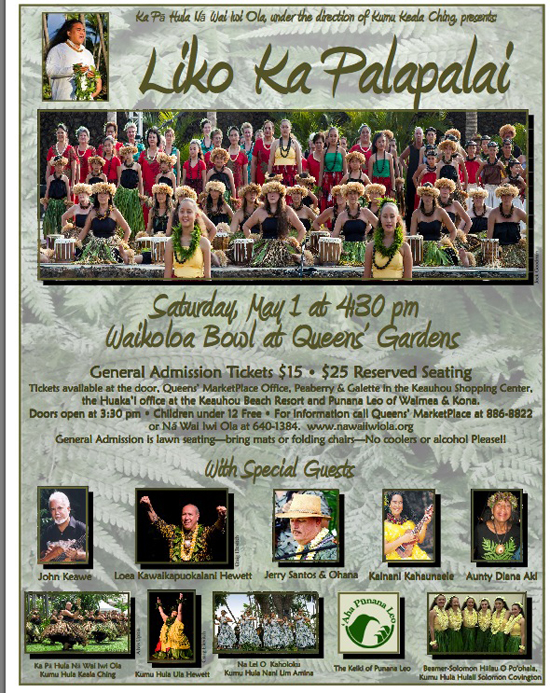 * Kamehameha Schools Hoolaulea, Keaau campus, 9 a.m.-3 p.m.
The theme this year is Hali'a Aloha (Fond Remembrances). Entertainment includes Ai Pohaku, Kuahiwis, Cyril Pahinui, Ko'okanipila, Kamehameha Hawaiian Emsembles, Ne Lei O Kaiona, Kamehameha Elementary Choir and Ledward Ka'apana. There will be ono food; cuultural events such as Star Lab, makahiki, woodworking, haku making, gyotaku; communitiy resources; and also a craft fair, kids' games, plant and produce sale, Kamehameha Schools logowear sale, and more. Free.
* Sheraton Keauhou Spring Arts and Crafts Fair, 10 a.m.-6 p.m.
Dozens of the Big Island's renowned artists and craftspeople will be on hand to showcase their best, including ceramics, pottery, jewelry, oils and watercolors, quilts, glasswork and beadwork, koa wood and photography. Among the invited artists participating are Roma Marks, Jamie Gilmore, Bobbie Caputo, Albert Miller, Margaret Lynch, Ann Guth, Justin Wolf and Marian Stanton. Moses Kahumoku will entertain.
* Volcano Art Center / Niaulani campus, 10 a.m.-3 p.m.
Join in the creative and cultural sharing of lei-making demonstrations, lei contest and display, hula and 'ukulele performances, talk-story sessions, guided tours of the native forest, and more. Lei contest is open to all ages and cash prizes are awarded for outstanding entries. Lei entries become part of a silent auction fundraiser for VAC.
It's a family event to be held at their Niaulani Campus in Volcano Villege (19-4074 Old Volcano Road). For more information, call (808) 967-8222. It's free but donations are accepted.
* Children's Day Festival, Sangha Hall, Hilo, 10 a.m.-noon
"Kodomo No Matsuri," the Children's Day Festival at Sangha Hall in Hilo on Saturday, May 1, 2010, is free. It's from 10 a.m. to 2 p.m. and presented by the Japanese Community Association of Hawai'i. There will be Sakana Tsuri (a fishing game where you can catch a live fish), make-and-take crafts, picture-taking, a musubi contest, food, entertainment and more. For more information, call 959-5702.
* AstroDay, Prince Kuhio Plaza, Hilo, 10 a.m.-4 p.m.
It will feature interactive exhibits from every observatory on Mauna Kea, demonstrations and presentations, Hawaiian Culture displays, student science projects, Infrared Portrait Studio, StarLab Planetarium shows, liquid nitrogen demonstrations, scholastic robotics demonstrations, telescope viewing and a Kids Corner with fun activities. There will be a presentation of the Excellence in Teaching award and music from many local entertainers. And lots of prizes. For more information, Gary Fujihara at (808) 932-2328, email him at fujmon@mac.com or visit www.astroday.net for more information. Admission is free.
* Parker Ranch Center, 10 a.m.
The Parker Ranch Center in Waimea hosts a "Bringing in the May" Festival. It's free. Enjoy live entertainment, arts & crafts, lei making (while supplies last), and the 11th annual Healthy KeikiFest. Also, Parker Ranch Store is offering many in-store specials and gifts.
Mary Koski book signing "Fairies in My Hat" 10am – 12noon
We have an in-store book signing lined up for 10am – 12noon featuring local author and artist Mary Koski and her new book "Fairies in My Hat". She will also have some of her prints available for signing. Mary Koski has written a variety of children's books, also available at Parker Ranch Store.
Live Music "Kohala" to perform live at 12 noon
The musical group "Kohala" will perform live at 12 noon – 1pm in the Food Court. They are Grammy Award Nominees, and are from here in Waimea. We will have CD's available for sale and they will be available for signing. Take a musical journey to the Islands with gentle jazz arrangements for acoustic, classical, and slack key guitars. Named after the beautiful Kohala Coast on the Big Island of Hawaii, Kohala performs popular Island songs from the 70s, 80s and 90s, with a fresh musical style that reflects the exotic beauty of paradise.
John Tanaka author "Aloha Oe" accompanied by Rona from Island Heritage with ukulele performance 1pm – 3pm
From 1pm – 3pm we will have another book signing in- store by John Tanaka the author of "Aloha Oe". He will be accompanied by Rona from Island Heritage with her ukulele. He is also known for his "Hawaiian talk story".
Four additional vendors will provide free samples and demonstrations including:
* Jane Hanano from "Lavender-n-Things
* Nancy Lindsey from "The Quilted Horse Hawaiian Designs"
* Melissa from "Rainbow Falls Connection"
* George and Ella from "Mama Ella's Cookies" to join us with their famous Paniolo Cookies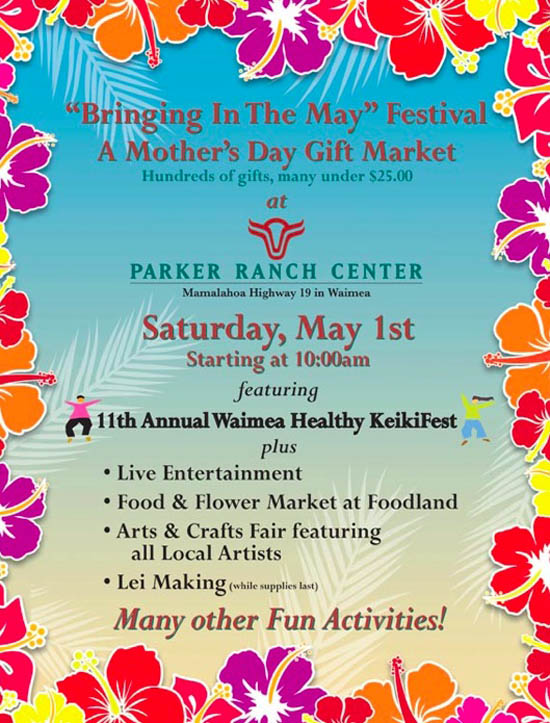 * Lei Day Festival, Kalakaua Park, Hilo
Hilo's annual May 1st Lei Day Festival (He Mo'olelo O Ka Lei) is moving from Mo'oheau Bandstand back to Kalakaua Park, which was the old town square.
Mo'olelo O Na Lei Festival, which depicts various aspects of the history and culture of the lei, was started by the late Aunty Nona Beamer. One of the festival's goals is to provide a Lei Day which small schools, charter schools and home school families can participate in, since they may not have the resources to put on their own Lei Day Pageant.
There are also pre–festival activities planned for the East Hawaii Cultural Center. There will be a group sing–along and hula on Wednesdays at 2:30 p.m., and leimaking classes from March 31 to April 2, 2010. The full schedule will be on the Lei Day and EHCC websites.
With Lei Day on a Saturday this year, Hawaii Island has a whole string of events for people to attend. This year we are grateful to have Na Hoku Hanohano Lifetime Achievement Award Winner Buddy Fo and, his beautiful wife Sammi, Braddah Waltah who started the Hawaiian Reggae movement, Meleana Ulrich–Manuel who brings her halau and carries on the tradition of the late Uncle George Naope and Kamaluhia Wooley.
"….the Lei is made up of many diverse materials, each with its own unique characteristics which enrich the story and artistry as it is fashioned together into a truly special creation of beauty; just as the County of Hawaiii is made up of people of many diverse backgrounds, abilities and talents, whose unique contributions enrich our community and make it a truly special place…" – Mayoral Proclamation
An auspicious year for the move! "We are inviting educational and commercial vendors who have a connection to the lei, environmental groups to display composting techniques (healthy soil to grow healthy flowers), forestry management (to share importance of maintaining a healthy eco-system), marine resources (to teach us how the reef provides an environment for our beautiful shell leis, artist (lei themed work in any media), lei plant sales (especially native), and lei makers to apply for booth space. To get a booth application and or to participate, vendors can phone EHCC at 808-961-5711 or Leilehua Yuen at 808-895-0850, or visit www.leiday.net
* Second annual Ka'u Coffee Festival
Taste and celebrate Ka'u's coveted crop over May Day Weekend, May 1 & 2, 2010. Most events are free, and will be held at the Pahala Community Center. Pahala Village is ideally located between Hawai'i Volcanoes National Park and Punalu'u Black Sand Beach.
Ka'u coffee is making a buzz among coffee connoisseurs and with top chefs, including renowned Chef Alan Wong, who currently offers coffee from five different Ka'u farms at his restaurant, Alan Wong's Honolulu. In January 2009, Ka'u Coffee was served at President Barack Obama's Inaugural Gala, held at the Hay-Adams Hotel in Washington, D.C.
On Sat., May 1, events start at 9am and last until 5pm and include a ho'olaule'a (celebration) with food, Hawaiian music, hula, vendors, Ka'u Coffee tastings, a Ka'u Coffee recipe contest, farm tours, and appearances by Miss Ka'u Coffee and Miss Peaberry.
On Sun., May 2, sign up for the Ka'u Coffee College, free for Ka'u coffee farmers and $25 for the public. Meet the farmers (currently, Ka'u has nearly 50 coffee farms growing on approximately 400 acres), tour the farms and learn more about the art and science of coffee growing and processing. The new Ka'u Coffee Mill will also be open for tours. For more details, visit www.kaucoffeefest.com