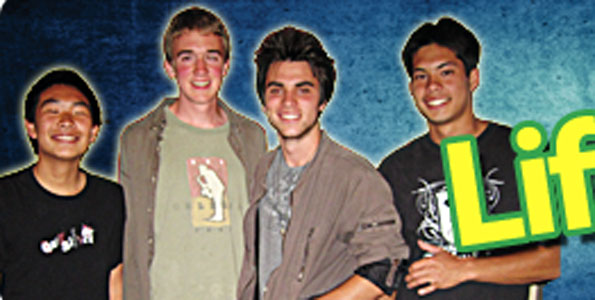 UPDATED, 11 p.m. Tursday, April 29
The winner was JP Band, the Oahu entry into this year's contest
———
Vote for LifeClock, the Big Island's entry into this year's Band Champ contest.
Call or text 808-979-1612. Voting closes at midnight Wednesday, April 28.
While attending the Hawaii Preparatory Academy, drummer Zach and bassist Makoa played amongst an ever-changing group of musicians.
It wasn't until two years ago that this "house band" hooked up with keyboard virtuoso Kyle. Just before the summer break of 2009, another one of Zach and Makoa's classmates, Logan, sat in with all three members and began singing one of his original songs. All the members clicked and immediately after that show the band was born.
Throughout that summer the four members met countless times to rehearse. Logan served as the band's songwriter, guitarist and vocalist.
The band decided on their name from an 80s movie Logan's Run which is what the lead singer was named after. LifeClock's logo is a clock intertwined in tree branches that symbolizes the constant evolution and growth of life.
Up for grabs at this year's contest:
* $5,000
* Recording Contract for a single
* Chance to open for a national act
* Custom Washburn Electric Guitar
Winner will be announced Friday, April on KHON TV2 "Wake Up Today" TV Show
— Find out more:
www.bandchamp.com