MEDIA RELEASE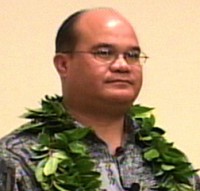 Dr. David Keanu Sai presentation 9 a.m.-noon, Saturday (April 24) at UH-Hilo UCB 127. Sai wll also be presenting 2-5 p.m. at the Hamakua Macnut Factory in Kawaihae.
Sai will be specifically addressing the impacts to "Crown Lands" and the contested case hearing against Hawaiian Oceanic Technology (Ahi Fish Farm) filed by Kale Gumapac and the Kanaka Council Moku O Keawe. The Attorney General has rendered an opinion regarding "standing" and DLNR will render their decision May 13 in Honolulu.
Sai has a Ph.D. in Political Science specializing in International Relations and Public Law. He has been to the World Court at the Hague filing legal briefs on Larsen v. Hawaiian Kingdom.
He has a forthcoming book to be published by UH Press on the American Occupation of the Hawaiian Islands, and is currently working on another book to be published UH Press on Hawaiian land law. He is also the author of law joumal articles on the topic of the continued existence of the Hawaiian Kingdom as an independent and sovereign State.
Sai will provide a legal analysis based on the executive agreements between President Cleveland and Queen Lili'uokalani that affects most if not all the current issues today, which includes the desecration of Kupuna lwi, gathering rights, native tenant rights, water and natural resources rights from mauka to makai, vested private property rights, etc.
Mahalo to The Kanaka Council Moku O Keawe, Phi Alpha Theta History Club, and Kuikapiko Anthropology Club