MEDIA RELEASE
Mountain View, Hawai'i's Big Island (April 5, 2010) – While Hilo Coffee Mill has been producing and roasting quality coffee for more than 10 years, great coffee has been grown on Hawaii Island for more than 180 years. In 1898 there were nearly 6000 acres producing coffee between Hilo Town and Volcano Village. Hilo Coffee Mill hopes to inspire more coffee farmers to produce quality Hawaiian coffee. Beyond the bean however, Hilo Coffee Mill has reached across the world by expanding within the community.
Local businesses partner together for the Merrie Monarch Festival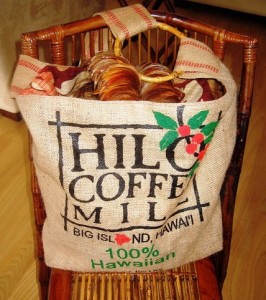 Burlap sacks are a staple in the coffee process at Hilo Coffee Mill. They are used to hold the precious coffee beans while the beans travel to their destination, or wait for the final roasting. Thanks to Manila Extract, a local artist, the burlap bags with the Hilo Coffee Mill logo, can now carry a dancer's precious hula implements. Fully lined, in an assortment of aloha prints, the Hula Bag includes a magnetic snap, interior pocket and strong carry strap. Just in time for the Merrie Monarch festival, The Hilo Coffee Mill Hula Bag by Manila Extract www.ManilaExtract.etsy.com) is available exclusively at Hana Hou in Hilo at 164 Kamehameha Avenue.
Not just for tourists
Locals, kama`aina, and visitors will soon be able to find Hilo Coffee Mill fresh roasted coffee at Hilo Hattie: The Store of Hawaii® located at Prince Kuhio Plaza in Hilo. Hilo Hattie stores are known for their Made In Hawaii gifts, apparel, and more. The Hilo store showcases several products from Hilo, Hawaii's Big Island and throughout the state.
Café expands buy local tradition
Hilo Bay Café is in the busiest shopping area in Hilo. Nestled between Walmart and Office Max, this restaurant has been buying locally grown products and showcasing them in fabulous and delicious meals. Now their meals and desserts will be enjoyed with 100% Hawaiian coffee, grown on the Big Island and roasted for Hilo Bay Café by Hilo Coffee Mill. The estate coffee is grown using responsible and sustainable farming practices, without the use of pesticides.
Hilo Coffee Mill is conveniently located on Highway 11, the beautiful Volcano Heritage Corridor, midway between Hilo and Hawai'i Volcanoes National Park.