MEDIA RELEASE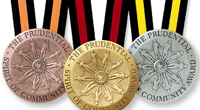 June Mohr, 16, of Kailua-Kona, and Brittany Amano, 12, of Honolulu, have been named Hawaii's top two youth volunteers for 2010 by The Prudential Spirit of Community Awards, a nationwide program honoring young people for outstanding acts of volunteerism.
The awards program, now in its 15th year, is conducted by Prudential Financial in partnership with the National Association of Secondary School Principals (NASSP).
Mohr was nominated by Kealakehe High School and Amano was nominated by Washington Middle School in Honolulu.
As state honorees, each will receive $1,000, an engraved silver medallion, and an all-expense-paid trip in early May to Washington, D.C., where they will join the top two honorees from each of the other states and the District of Columbia for several days of national recognition events. Ten of them will be named America's top youth volunteers for 2010 at that time.
Mohr, a junior at Kealakehe High School, helped raise more than $27,000 for the American Cancer Society by taking a leadership role in a Relay for Life campaign, and was the most active member of her school's community service club last year.
She said she is motivated by the examples set by her mother, father, and brother, all of whom have conducted numerous service activities over the years. "As I have learned from my family, volunteer work is simply the right thing to do," she said.
In addition to serving as an event chairperson and sponsorship chair for her school's Relay for Life fund-raiser, Mohr is an officer of the Interact service club at Kealakehe High and has helped make it the top Interact club in the state, with approximately 200 members.
She is heavily involved in recruiting students to take part in the club's activities, and has been a key participant in service projects that have fed the homeless, cleaned up roadside trash, restored a local park, and sent holiday packages to soldiers.
Mohr and other Interact members also have organized donated books for schools and book sales, raised money for orphanages in India, read to young children on weekends, operated an aid station for an annual "Ironman World Triathlon," and rung bells for The Salvation Army during its holiday collection drive.
"If everyone would give, even just a little, there would be more smiling children, fewer cancer victims, fewer hungry people, more things to celebrate, and great opportunity to share," she said.
Amano, a seventh-grader at Washington Middle School, is the only youth member of a volunteer group that performs each week for elderly patients at a local hospital. Amano had a friend who volunteered regularly at a community center, which "showed me that I should help out somewhere too in my free time, instead of watching TV or playing games," she said.
So when she learned most of the elderly patients at Leahi Hospital rarely received visits from their families, Amano realized she could help bring them joy and comfort by joining a group of senior citizens – including her grandmother – who go to the hospital every week to entertain and assist the patients.
After school on Wednesdays, Amano takes two buses to get to the hospital and then spends two-and-a-half hours with her group, singing, dancing, telling jokes, and leading exercises for 40-50 elderly patients. She also helps some of them at mealtime, and enjoys just visiting with them.
Although Amano has done a lot of volunteer work in the past, "I've never had such a memorable time as I have volunteering at Leahi," she said. "You see them smile when you sing their favorite songs, and you learn from them so many things about the past."
In addition, the program judges recognized two other Hawaii students as Distinguished Finalists for their impressive community service activities. Each will receive an engraved bronze medallion:
* Megan Kurohara, 16, of Hilo, a junior at Hilo High School, created a student action group to support a community effort that aims to revitalize downtown Hilo. Megan's group so far has remodeled and maintained a park, conducted an audit to create a prioritized list of needs, and obtained two grants to renovate plant potters, paint over graffiti, and host a monthly event for families downtown.
* Ryan MacLeod, 17, of Kahului, a senior at St. Anthony Junior/Senior High School in Wailuku, has volunteered for the past two years as a caregiver for a disabled child at a free weeklong summer camp. In addition to being responsible for his assigned camper 24 hours a day, Ryan assists other caregivers with their campers, and serves as an ambassador to recruit other students at his school to volunteer at the camp.
"People as caring and committed as these young students are critical to the future of our neighborhoods, our cities and our nation," said John R. Strangfeld, chairman and CEO of Prudential Financial. "By recognizing these honorees, we hope to encourage other young people – our future leaders – and all Americans to think more about the value and importance of volunteering in their communities."
"The young people recognized by the Prudential Spirit of Community Awards demonstrate an enormous capacity for giving and reaching out to those in need," said Gerald N. Tirozzi, executive director of the National Association of Secondary School Principals. "NASSP is proud to honor these student leaders because they are wonderful examples of the high caliber of young people in our nation's schools today."
All public and private middle level and high schools in the country, as well as all Girl Scout councils, county 4-H organizations, American Red Cross chapters, YMCAs and affiliates of HandsOn Network, were eligible to select a student or member for a local Prudential Spirit of Community Award this past November.
Nearly 5,000 local honorees were then reviewed by an independent judging panel, which selected state honorees and distinguished finalists based on criteria such as personal initiative, creativity, effort, impact and personal growth.
While in Washington, D.C., the 102 state honorees will tour the capital's landmarks, attend a gala awards ceremony at the Smithsonian's National Museum of Natural History, and visit their congressional representatives on Capitol Hill.
In addition, 10 of them – five middle level and five high school students – will be named national honorees May 3 by a prestigious national selection committee. These honorees will receive additional $5,000 awards, gold medallions, crystal trophies, and $5,000 grants from The Prudential Foundation for nonprofit, charitable organizations of their choice.
In addition to granting its own awards, The Prudential Spirit of Community Awards program will distribute President's Volunteer Service Awards to more than 2,800 of its local honorees this year on behalf of President Obama. The President's Volunteer Service Award recognizes Americans of all ages who have volunteered significant amounts of their time to serve their communities and their country.
— Find out more: Prudential Spirit of Community State Honorees and Distinguished Finalists: spirit.prudential.com National Association of Secondary School Principals: www.principals.org