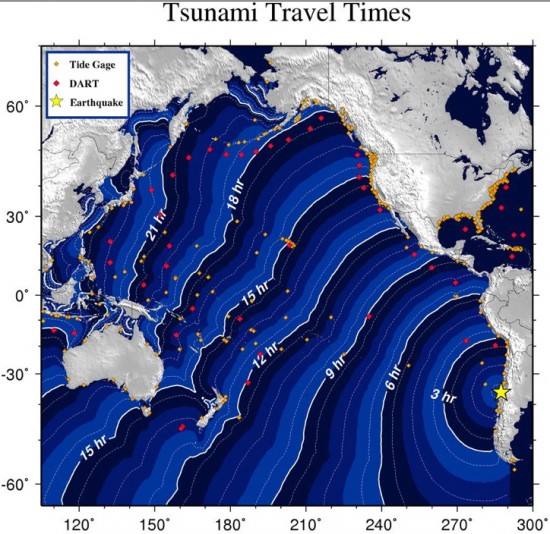 TSUNAMI MESSAGE NUMBER 5
NWS PACIFIC TSUNAMI WARNING CENTER EWA BEACH HI
1149 PM HST FRI FEB 26 2010
TO – CIVIL DEFENSE IN THE STATE OF HAWAII
SUBJECT – TSUNAMI ADVISORY SUPPLEMENT
A TSUNAMI ADVISORY CONTINUES IN EFFECT FOR THE STATE OF HAWAII.
AN EARTHQUAKE HAS OCCURRED WITH THESE PRELIMINARY PARAMETERS
ORIGIN TIME – 0834 PM HST 26 FEB 2010
COORDINATES – 36.1 SOUTH 72.6 WEST
LOCATION – NEAR COAST OF CENTRAL CHILE
MAGNITUDE – 8.8 MOMENT
MAGNITUDE – 8.4 RICHTER (MS)
MEASUREMENTS OR REPORTS OF TSUNAMI WAVE ACTIVITY
 GAUGE LOCATION        LAT   LON    TIME        AMPL         PER
 -------------------  ----- ------  -----  ---------------  -----
 CALDERA CL           27.1S  70.8W  0843Z   0.45M /  1.5FT  20MIN
 ANTOFAGASTA CL       23.2S  70.4W  0832Z   0.40M /  1.3FT  58MIN
 TALCAHUANO CL        36.7S  73.4W  0653Z   2.34M /  7.7FT  88MIN
 COQUIMBO CL          30.0S  71.3W  0852Z   1.32M /  4.3FT  30MIN
 CORRAL CL            39.9S  73.4W  0739Z   0.90M /  2.9FT  16MIN
 SAN FELIX CL         26.3S  80.1W  0815Z   0.53M /  1.7FT  08MIN
 VALPARAISO CL        33.0S  71.6W  0708Z   1.29M /  4.2FT  20MIN

 LAT  - LATITUDE (N-NORTH, S-SOUTH)
 LON  - LONGITUDE (E-EAST, W-WEST)
 TIME - TIME OF THE MEASUREMENT (Z IS UTC IS GREENWICH TIME)
 AMPL - TSUNAMI AMPLITUDE MEASURED RELATIVE TO NORMAL SEA LEVEL.
        IT IS ...NOT... CREST-TO-TROUGH WAVE HEIGHT.
        VALUES ARE GIVEN IN BOTH METERS(M) AND FEET(FT).
 PER  - PERIOD OF TIME IN MINUTES(MIN) FROM ONE WAVE TO THE NEXT.
EVALUATION
THE PACIFIC TSUNAMI WARNING CENTER HAS ISSUED AN EXPANDING REGIONAL TSUNAMI WARNING AND WATCH FOR PARTS OF THE PACIFIC LOCATED CLOSER TO THE EARTHQUAKE. AN EVALUATION OF THE PACIFIC WIDE TSUNAMI THREAT IS UNDERWAY AND THERE IS A POSSIBILITY THAT HAWAII COULD BE ELEVATED TO A WATCH OR WARNING STATUS.
IF TSUNAMI WAVES IMPACT HAWAII THEIR ESTIMATED EARLIEST ARRIVAL
TIME IS
1119 AM HST SAT 27 FEB 2010
MESSAGES WILL BE ISSUED HOURLY OR SOONER AS CONDITIONS WARRANT.