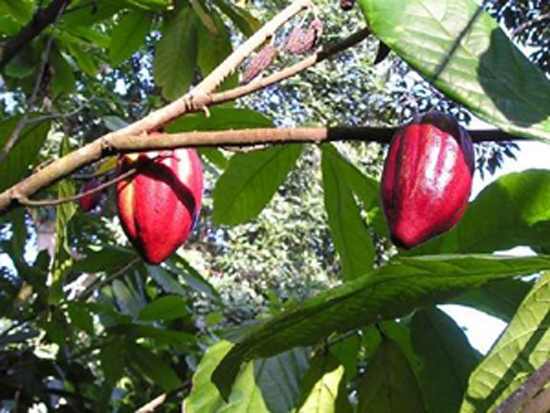 MEDIA RELEASE
Friends of The Kohala Center are invited to experience Chocolate Growing and Candy Processing 9 a.m.-1 p.m. Saturday, Feb. 13 on Kuaiwi Farm.
This is the second in a series of four learning events sponsored by The Kohala Center in 2010, focusing on "The Birds and the Bees and a Little Bit of Chocolate."
Hosts Una Greenaway and Leon Rosner will lead participants on a tour of their five-acre organic farm in Kealakekua. Several crops are grown and processed right on site, including coffee, macadamia nuts, and chocolate.
Participants will learn the steps involved in making chocolate candy, from harvest to the final product. And everyone will be invited to sample the farm's homemade chocolate. A picnic lunch is included.
"Growing cacao and making chocolate candy is a challenging experience, but the end product is worth the work," Greenaway said. "Participants, even the chocoholics, will definitely get their fill of chocolate. And they will take home a sample bag of goodies."
For information about this and other Learning Events, contact The Kohala Center at info@kohalacenter.org or 808-887-6411.
Cost is $25 per event for current Friends of The Kohala Center; $75 for new Friends, which includes an event.
The Kohala Center's learning events encourage participants to connect with one another, with cultural and scientific experts, and with Hawaii Island's natural, cultural, and spiritual landscapes.
Other trips planned this year are Beekeeping and Volcano Island Honey with Richard Spiegel on March 20, and the Keauhou Bird Conservation Center and Kipuka Puaulu with Jack Jeffrey on May 15.
— Find out more:
www.kohalacenter.org/join.html