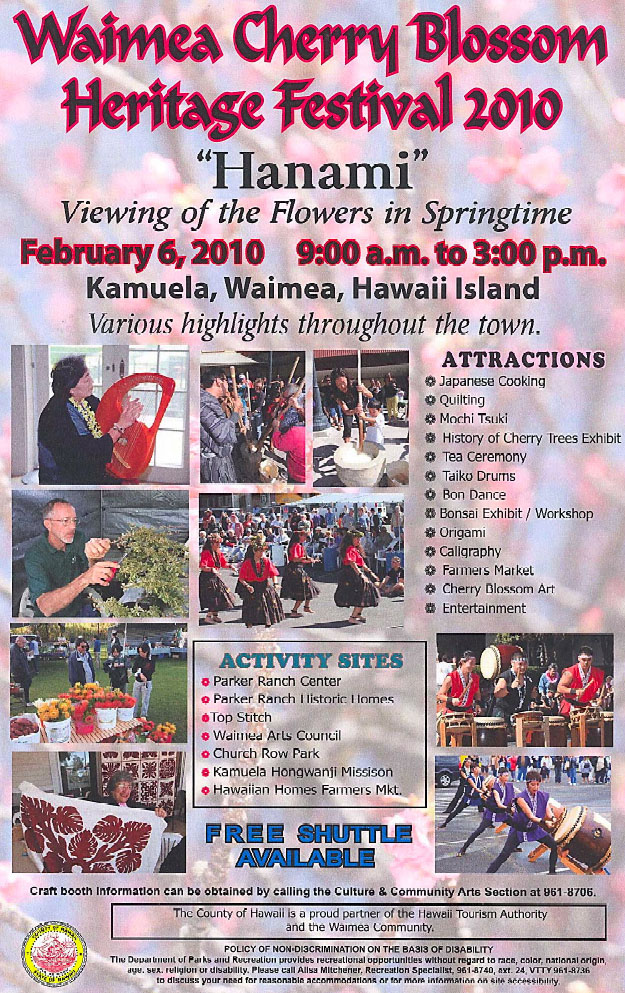 16th Annual Waimea Cherry Blossom Heritage Festival
9 a.m. – 3 p.m., Sat., Feb. 6, 2010
To celebrate the blooming of Church Row Park's historic cherry trees and the Japanese tradition of viewing them – hanami – and welcoming the arrival of spring. As always, will include a host of activities at venues throughout town — from Parker Ranch Historic Homes on Mamalahoa Hwy. 190 to the Hawaiian Homestead Farmer's Market 'First Saturday' Celebration on the lawn at Kuhio Hale on Hwy. 19.
Look for pink banners identifying site locations and enjoy Japanese and multi-cultural performing arts, demonstrations of bonsai, origami, sumie, calligraphy, tea ceremony, mochi pounding, sake sampling and a host of craft fairs. Free shuttle transportation among venues. Info: 961-8706.
—
PARKER RANCH HISTORIC HOMES HOSTING CHERRY BLOSSOM FESTIVITIES
Parker Ranch's Historic Homes in Waimea have worked with Annu Shionoya of the East West Fine Arts Gallery to put together special demonstrations and exhibits to celebrate the 2010 Cherry Blossom Heritage Festival on Saturday, Feb. 6.
At the historic Puuopelu home between the hours of 9 a.m. and 3 p.m. traditional Japanese tea ceremonies will be observed by Emi Wakayama. Tea Ceremony, also known as Chanoyu or Sado, is a ritual way of preparing and drinking tea. Strongly influenced by Zen Buddhism, every hand movement is choreographed and requires long hours, even years, of training.
To Japanese, the Tea Ceremony elevates drinking tea to a spiritual discipline. Shrouded in symbolism, Tea Ceremonies have been around since the sixteenth century. They are a way of communicating, consensus building, and teaching discipline. It is fascinating to observe and visitors will enjoy learning more about this centuries-old tradition.
In addition, guests will enjoy a performance by the Sakura (Cherry Blossom) Quartet. Music from India, Japan, China, France and Germany will be presented on Shakuhachi and gold flutes, harp, harmonium, piano and voice. The group consists of Gene Tamashiro, Jean Pierre Thoma, Mahesh & Brihan Roberto, and Annu Shionoya. The repertoire will consist of music by Miyagi, Debussy, Faure, and traditional Indian and Chinese melodies. Dancer Shizono Nasu will perform a Mai dance.
Oriental arts by Masanori Katsuyama (wood block prints) from Kyoto Japan and a local artist, Susumu Sakaguchi (acrylic original and giclee prints) from Volcano will be on display at the Historic Homes Puuopelu Gallery as a tribute to sharing cross-cultural traditions of the Cherry Blossom Festival. Traditional kimonos will be on display and available for purchase. Please stop by to see the Cherry Blossom quilt and other Waimea made quilts.
Food will be available through Crivellas who will be serving portugese bean soup and malasadas.
The historic homes and tours of Mana Hale and Puuopelu, along with their gardens are open to the public on Cherry Blossom day from 9 a.m. to 4 p.m. Admission will be complimentary.
—
PARKER RANCH STORE HOSTING LORNA LIM
Parker Ranch Store will host a live performance of the new CD release "Polinahe" by Lorna Lim of her new CD release Polinahe! Lorna's beautiful voice and her connection to Big Island's music tradition place her among Hawaii's living treasures.
Lorna recorded "Polinahe" for hula dancers in a style that reflects her personal musical tradition. The translation of the title – "poli", meaning from the heart, and "nahe", meaning sweet and pure- sums up Lorna's musical style and the beautiful quality of her voice.
This is the second time the Parker Ranch Store has hosted a live performance by Lorna Lim. After her performance, this talented musical artist will be available to autograph a copy of her new CD.
In addition to Lorna Lim, the Parker Ranch store will also host Leo Mills and her feather lei making skills. What better way to celebrate than with our favorite lei maker in house. Leo Mills returns to the Parker Ranch Store showcasing the art of feather lei making.
Her popular lapel pins in the form of either our local favorite owl or majestic pheasant are a great authentic souvenir of the area. Her skill and dedication to this art is a must see! She will be on hand with demonstrations and selling her wares.