(Reader Opinions Disclaimer: This column allows members of the community to share their opinions and views, which do not necessarily reflect those of Hawaii 24/7, its staff, sponsors or anyone other than the writer. Hawaii 24/7 reserves the right to refuse any column deemed to be misinformation, of an unethical nature, a personal attack, or a blatant commercial pitch.)
Aloha e,
The media continues to mistakenly refer to the recent and on-going noxious mauka fires as brush fires. They are not…these fires are occurring within native forests filled with numerous endangered and threatened plant and animal species.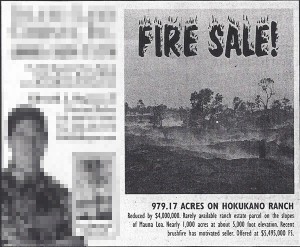 Topping it all off was Sunday's incredibly insensitive "Fire Sale" ad in West Hawai'i Today complete with a photo of the still smoking forest that is choking thousands of residents each night.
I have attached the state Board of Land and Natural Resource's "Approval in Principle for Acquisition of Perpetual Conservation Easement" for the mauka 9,000 acres of the 11,570 acre Kealakekua Ranch. The United States Congress provided the agency with $2,000,000 to purchase 4,000 acres with another installment of $2 million due to purchase the remaining 5,000 acres.
The area that is burning "contains many different forest types, including mixed open forest, closed 'ohi'a lehua rainforest, open koa forest with mamane, and open koa forest. This forest mosaic supports a wide variety of federally listed threatended and endangered plant and animal species.
The document goes on to describe the "Need for Acquisition…Due to agricultural zoning, forest in Kona are threatened by conversion to non-forest uses. Sales for development would result in drastic changes to the area's rare habitat and important watershed needs. Since its recent purchase of the property, Seller [the Pace family] has received multiple offers to purchase for the purpose of completing the existing development entitlements. In addition to development concerns, Kona's forests are threatened by the spread of invasive non-native plants and feral ungulates, all of which increase wildfire susceptibility and decrease natural forest regeneration.
The acquisition will insure preservation of the forested areas of the property through an on-going management plan by Kealakekua Heritage Ranch LLC, as required by the conservation easement. The management plan shall be implemented by Kealakekua Heritage Ranch LLC with oversight by the Division of Forestry and Wildlife."
Has anyone seen or heard from the state DNLR's Division of Forestry and Wildlife in this sad state of affairs?
Charles Flaherty
Captain Cook