Video by David Corrigan | Big Island Video News
Karin Stanton | Hawaii 24/7 Contributing Editor
It's just accepted that Kilauea Volcano is doing it's thing. It's been erupting continuously since Jan. 3, 1983 and many Big Island residents pay Pele no mind as she and they go about their business.
Volcanoes, especially active ones, however, do demand attention.
To mark the anniversary of the eruption and the need to be aware of all its glory and hazards, the USGS Hawaiian Volcano Obeservatory,  Hawaii Volcanoes National Park, county Civil Defense Agency and the University of Hawaii at Hilo have declared January "Volcano Awareness Month."
'Who could not be aware of it?'
At Saturday's kick off event, Hawaiian Volcano Observatory geologist and public information office Janet Babb asked that very question.
For most residents, visitors and volcanology buffs, it's certainly nothing new. But officials say being aware, educated and prepared is a necessity.
Saturday underscored the need as the usual trade winds dropped, leaving Halemaumau's belching gases to sit over Hawaii Volcanoes National Park and fouling the air to dangerous levels. Rangers sported full masks and signs urged visitors to stay in their cars.
The morning presentation was moved from the Halemaumau overlook inside to prevent choking media representatives. (Yes, please, insert your own joke here.)
The month-long outreach program is designed to ensure everyone has the information they need to stay safe, while respecting the culture and history of the volcano, enjoying nature's awesome display of raw power and energy, and advancing the science and technology of volcanology.
Park Superintendent Cindy Orlando said the NPS recognizes that Kilauea and Mauna Loa are incredible resources, and works with the U.S. Geological Survey scientists "who have their finger on the pulse and constantly monitor these mighty mountains."
They share with park visitors the curiosity, awe and respect for the mountains.
"We encourage them to become aware through their own perceptions and experiences – on trails that descend into craters and lava tubes, loop around spatter ramparts and steam vents, and cross pahoehoe and aa flows dotted with stands of lava trees," she said.
Visitors – whether they are life-long Big Island residents or vacationers from around the globe – also are encouraged to become aware of hazards and dangers that pool beneath the surface of the island.
"Hawaii basically is volcanoes and it's important for people to realize that," HVO Scientist-in-charge Jim Kauahikaua said. "Our challenge is in conveying information."
Civil Defense Agency administrator Qiunce Mento said volcanoes present real and changing hazards. While Civil Defense is charged with helping keep people safe when hazards become untenable, Mento said personal responsibility is key.
For example, he said, everyone should know how to react to the island's most common threats.
"You should know when the ground shakes, maybe it's time to get under something so things don't fall on you. When the ground shakes a lot and you're near the shore, maybe it's time to head inland," he said. "When the vog is heavy, maybe it's time to get inside or even to leave the area. This knowledge ultimately will be your best protection."
Upgrading the seismic system
Kauahikaua said $3.3 million in federal stimulus money will be used to fundamentally upgrade the observatory's monitoring network. The upgrades are expected to last more than 18 months and create a handful of temporary jobs.
The seismographic network currently includes more than 60 sites that collect data continuously and shoot it back to the observatory in real-time, he said. Although some GPS and Web cams are operational, Kauahikaua said, it's "fairly old technology."
Dated analog equipment will be replaced with digital technology, he said.
"While the networks are working very well, the upgrade will allow us to receive more useful information from each monitored location and make the networks more expandable," he said. "Most of our seismic networks were installed in the 1950s, 1960s and 1970s so the upgrade to 21st century standards will be dramatic."
The next generation
A second initiative this year involves a formal cooperative relationship with the School of Ocean and Earth Sciences and Technology at the University of Hawaii at Manoa.
Kauahikaua said the partnership should enhance volcano research in Hawaii, as well as help train the next generation of volcano scientists.
In addition to offering internships to college students from around the globe, Kauahikaua said he hopes the relationship with UH will encourage budding Big Island scientists.
"We have found that local kids are either not interested at all in science or tend to want to go into astronomy. So we're basically playing catch up," he said. "We're trying to put it on the radar. With this cooperative relationship, we hope to create a better field for volcanologists. And there is a lot of room for other technology specialists."
Culture and history
Keola Awong, the park's cultural anthropologist, said today's island residents should have the same understanding and respect of the volcano as those in ancient times had for Pele.
"Pele is here and she will remain here," Awong said. "And it's very important for us to know this. She is much more than (the legend of) an old lady dressed in white walking on the side of the road late at night or a white dog that you might see just before an eruption."
The legend and lore of Pele tells its own story, Awong said. The ancient chants still have great meaning and we can learn the same lessons from them.
"Pele is volcanism. She is very unpredictable," she said. "And that's the kind of respect that we have to show for her."
Dates and milestones
Volcano Awareness Month marks the 50th anniversary of the 1960 eruption that leveled Kapoho. The 27th birthday of Kilauea's current eruption along the East Rift Zone was Jan. 3.
This year also marks the 60th anniversary of the 1950 Mauna Loa episode and the 20th anniversary of Kalapana's obliteration.
Since the eruption began in 1983, lava flows have buried at least 45 square miles of the volcano and have added more than 500 acres of new land to the island.
Lava along the coast is 33 to 115 feet deep. Kalapana was smothered under 50 feet of lava in the 1989 flow.
Nearly 9 miles of coastal highway has been covered and at least 189 structures have been engulfed.
— Find out more: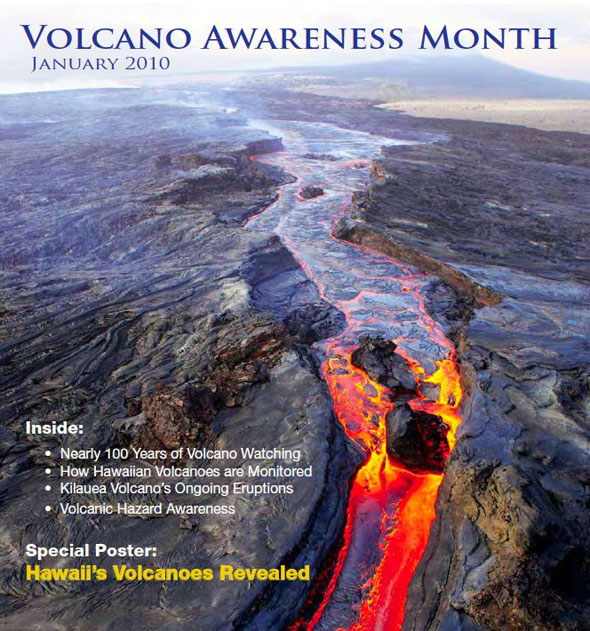 click on image above for PDF magazine