MEDIA RELEASE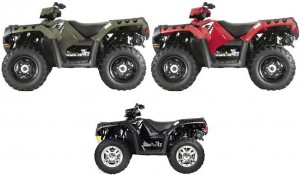 The following product safety recall was voluntarily conducted by the firm in cooperation with the CPSC. Consumers should stop using the product immediately unless otherwise instructed.
Name of Product: 2009-2010 Polaris All-Terrain Vehicles (ATVs)
Units: About 8,500
Manufacturer: Polaris Industries Inc., of Medina, Minn.
Hazard: The front suspension ball joint stem can separate from the steering knuckle and cause the rider to lose steering control, posing a risk of injury or death to riders.
Incidents/Injuries: Polaris has received 19 reports of incidents involving the recalled ATVs. No injuries have been reported.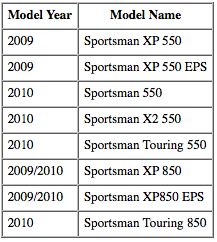 Description: This recall involves model year 2009 and 2010 Polaris Sportsman ATVs (models listed below) with certain VIN numbers. The ATVs were manufactured between January and August 2009. The VIN number and manufacture date are located on the right front of the ATV on the frame rail next to the front shock.
Sold at: Polaris dealers nationwide from February 2009 through November 2009 for between $7,500 and $10,800.
Manufactured in: United States
Remedy: Consumers should immediately stop using the recalled ATVs and contact their local Polaris dealer to determine if your model and VIN number are included in this recall and to schedule a free repair. Polaris is directly contacting registered owners about the recall.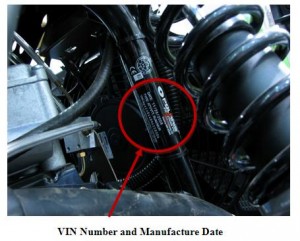 Consumer Contact: For additional information, contact Polaris toll-free at (888) 704-5290 between 8 a.m. to 5 p.m. CT Monday through Friday, or visit the company's Web site at www.polarisindustries.com
CPSC is still interested in receiving incident or injury reports that are either directly related to this product recall or involve a different hazard with the same product. Please tell us about it by visiting www.cpsc.gov/cgibin/incident.a…