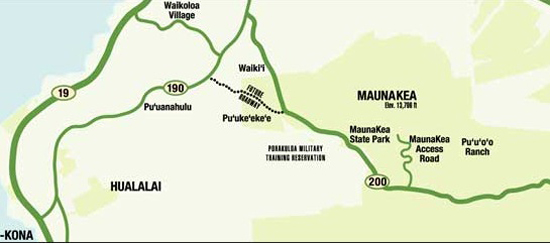 The proposed new alignment at the western end of Saddle Road. (Illustration courtesy of www.saddleroad.com)
Karin Stanton | Hawaii 24/7 Contributing Editor
The next step in the Saddle Road project is a pair of Big Island public hearings, where residents can see maps of the proposals and comment on the alignment.
The purpose of these hearings is to present the revised highway alignment and to gather evidence and testimony relating to this final section.
This section is approximately 10 miles long, truck lane for most of the uphill length, 55 mph speed limit except at Mamalahoa Highway, intersects with Mamalahoa Highway near milepost 14, connects to new Saddle Road near milepost 42 and the entire alignment of this section is on Army land.
The hearings are:
* 5 p.m. Wednesday, Dec. 9 at Aunty Sally's Luau Hale, Hilo
* 3:30 p.m. Thursday, Dec. 10 at NELHA Gateway Center, Kona
Marni Herkes, who has served on the Saddle Road task force for 16 years, said it is vital residents support the project, which could cut as much as 30 minutes from the Hilo-Kona commute.
Herkes said although no money has yet been earmarked for this section of the highway, the state and federal transportation departments are committed to seeing it complete, as is U.S. Sen. Daniel Inouye.
The supplemental Environmental Impact Statement has been complete and can be viewed on the Web site.
Comments are due by Jan. 7.
Saddle Road is the shortest and most direct route across the island, extending 47 miles from Kaumana, above Hilo, to an intersection with Mamalahoa Highway seven miles south of Waimea. The proposed alignment would pass south of Waikii Ranch and connect with Mamalahoa Highway on the Kona-side of the Waikoloa road.
The highway is the only road serving Pohakuloa Training Area, the Mauna Kea and Mauna Loa observatories, the ranching and residential areas of Waikii Ranch and Kaumana City, Mauna Kea State Park and other recreational areas.
Built by the military to access PTA during World War II, Saddle Road was not originally designed to state highway standards.
In 1992, when the planning stage for project  began, the entire Saddle Road was a narrow, winding, two-lane road with steep grades, sharp curves, poor pavement conditions, substandard drainage, and high accident rates.
Despite its poor conditions, Saddle Road was becoming increasingly important for access to PTA, Mauna Kea, and outdoor recreation areas. It also has become an important route for cross-island business travel, transportation of goods and services, tourism/recreation, shopping and for daily commuting.
— Find out more: