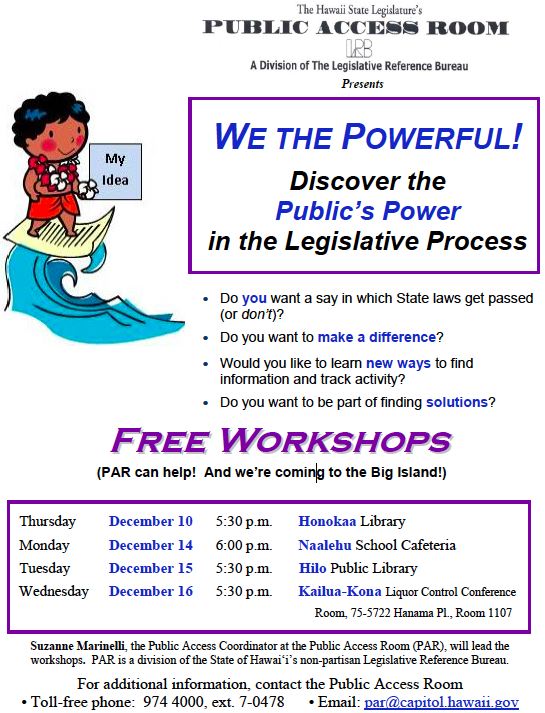 MEDIA RELEASE
The Public Access Room is conducting a series of free neighborhood workshops entitled, "We the Powerful!"
These workshops are designed to demystify the state lawmaking process and will demonstrate ways people can speak out at the Legislature without having to leave the Big Island.
Suzanne Marinelli, the public access coordinator at the Public Access Room (PAR), will lead the workshops.
All are welcome. No registration or prior experience is required.
The PAR, a division of the state's non-partisan Legislative Reference Bureau, is the public's office at the state Capitol and has long been devoted to assisting residents as they engage in state legislative government. There is never a fee for services.
PAR's workshops are designed to be useful to newcomers and veterans of the legislative process.
Topics will include delivering effective testimony, making sense of deadlines, and using the latest innovations on the Legislature's Web site. Renewed inspiration to be part of the solution will be the overriding theme.
For additional information, or to arrange for individual tutorials or group workshops, residents are invited to contact the Public Access Room toll free from Hawaii Island at 974-4000 ext.7-0478 or via e-mail at par@capitol.hawaii.gov.
Contact PAR directly to make arrangements if special assistance or services such as sign language interpreters are needed.