MEDIA RELEASE
Second Annual Pan-Pacific VEX Robotics Championship concludes as
students enthusiastically showcase STEM skills, problem solving and critical thinking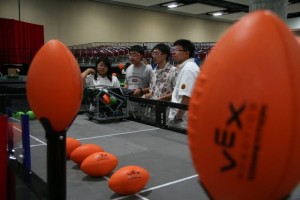 HONOLULU – Nearly 1,000 middle and high school robotics students from Hawai'i, California, Nevada and China put their knowledge of science, technology, engineering and math (STEM) to the test for the past three days in a friendly, spirited competition that pitted robots against robots, and showcased students' ingenuity, teamwork and ability to think analytically under pressure.
Throughout the second annual VEX Robotics Pan-Pacific Championship, which started Thursday and wrapped up tonight at the Hawai'i Convention Center, 132 qualifying matches took place between 86 student teams from 48 Hawai'i, mainland and Chinese schools. Teams squared off in the game of "Clean Sweep."
The object of the "Clean Sweep" challenge is for two-team alliances to maneuver their robots to place as many small, medium and large balls as possible onto their opponent's side of the field and by "locking up" small balls in triangular goals.
Twenty-four teams, including 18 from Hawai'i, competed in the final championship rounds. The eight three-team alliances that competed in the finals were:
1. Highlands Intermediate, McKinley High (Team E), Moanalua High (Team C)
2. Bellarmine College Preparatory (Teams A, B and C) – San Jose, CA
3. Kalaheo High, McKinley High (Team F), Moanalua High (Team A)
4. Honoka'a High, McKinley High, Waiakea High
5. Campbell High, Hawai'i Baptist Academy, Campbell High (Team B)
6. Nanning Minzhu Primary School (Teams A) – Guangxi, China; Changping Middle School, Guangdong Province, China; High School Attached to Northeast Normal University – Jilin Province, China
7. Kalani High, McKinley High (Team D), Farrington High
8. Waialua High & Intermediate (Team A), Mililani High (Teams A and B)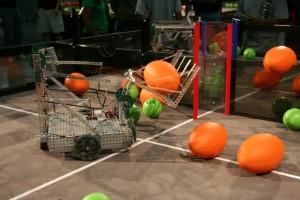 In the end, the three-team alliance from Bellarmine College Preparatory took the top honors, finishing as the Pan-Pacific Champions.
The alliance of Honoka'a High, McKinley High and Waiakea High earned second place in the Championship.
Four Hawai'i schools who competed at the Pan Pacific Championship qualified to advance to the VEX Robotics World Championship that will take place at the Dallas Convention Center and Arena April 22 – 24, 2010, including: Honokaa High School, Waiakea High School, McKinley High School, Pearl Highlands Intermediate. At the World Championship, these winning teams will have the opportunity to challenge their top-ranked peers from other countries around the world, including teams from the Asian Robotics League, South America and Europe.
Other award-winning teams include:
McKinley High (Team E) – Robot Skills Champion and Programming Skills Champion
Bellarmine College Preparatory (Team A) – Robot Skills, second place
Lahainaluna High (Team M) – Programming Skills, second place
Nanning Minzhu Primary (Teams A and B) – Judges Award for potential
Hawai'i Baptist Academy – Think Award
Iolani School – Energy Award
Lahainaluna High – Judge's Award
Honokaa High – Judges Award
Kalaheo High – Build Award
Kaua'iBots – Create Award
Kaiser High and Niu Valley Middle – Sportsmanship Award
Bellarmine College Preparatory – Amaze Award
Pearl Highlands Intermediate – Excellence Award (Middle School)
McKinley High – Excellence Award (High School)
Robotics education is a key component of the Lingle-Aiona Administration's Hawai'i Innovation Initiative, which seeks to transform Hawai'i's economy from one based on land development to one based on the innovative capacity of Hawai'i's residents, especially our youth. Robotics in a larger sense provides students with a strong educational foundation in science, technology, engineering and math, and offers them opportunities to solve problems, work as teams and think analytically – skills useful in any career.
VEX Robotics is one of six major programs in which Hawai'i students can participate. The six programs which fall under the umbrella of the Robotics Organizing Committee (ROC)includes VEX, FIRST Robotics, FIRST LEGO League, Botball, Underwater Remote Operating Vehicle (ROV), and Micro Robotics.
Recognizing the importance of promoting robotics at an early age and sustaining students' interest in STEM education throughout their schooling, the six robotics programs which previously operated autonomously earlier this year joined together to form the Hawai'i Robotics Organizing Committee (ROC) (www.robotics.hawaii.gov). This is the first time all six of the robotics programs have coordinated their efforts to promote robotics education in elementary, middle and high schools statewide.
To learn more about student robotics in Hawai'i as well as to view highlights, photos and videos of the Inaugural VEX Pan-Pacific Championship, visit www.hawaii.gov/gov or www.robotics.hawaii.gov
Other upcoming robotics events:
Southern California VEX Robotics Championship, December 12, 2009, California State University at Northridge – Campbell High School will travel to compete against California teams.
Hawai'i FIRST LEGO League (FLL) State Championships, December 19, 2009, Neil S. Blaisdell Center, Honolulu – 48 Hawai'i elementary and middle school teams will compete for the title of FLL State Champions and earn a spot in the FIRST World Championship.
FIRST Robotics Competition (FRC) Kick-off Ceremony, January 9, 2010, McKinley High School Auditorium – Hawai'i FRC teams will gather for the announcement of this year's competition. Teams will compete at the FIRST in Hawai'i Regional Robotics Competition at the University of Hawai'i at Manoa's Stan Sheriff Center, March 25-27, 2010.