Karin Stanton | Hawaii 24/7 Contributing Editor
Stage II was all about the weather. The Hawaii 24/7 roving correspondent Paul Aguirre said the Big Island offers up nothing but challenges for these athletes.
"First thing this morning, it was cold and wet. Then it was windy and sunny, then hot and by the time we got up toward Kohala is was cold and windy again," Aguirre said. "These guys are just amazing."
By the time the sun set on Saturday, the triathletes had made the Stage II stop in Hawi and hunkered down to prepare for Sunday's 52.4-mile run back along the Kohala Coast to the finish line at Old Kona Airport.
Ultraman, celebrating its 25th anniversary, starts with a 6.2-mile swim from Kailua Pier to Keauhou and a 261.4-mile bike course that runs from Keauhou to Volcano and then from Volcano to Hawi.
With time cut offs at 5.5 hours for the swim and 12 hours for each of the other legs, Ultraman only invites the best of the best endurance athletes from around the globe.
Because this year is a milestone anniversary, the field sports only the elite. And not all of them are having a good time.
Roland Patzina, a truck driver from Germany is competing in his sixth Ultraman, didn't even want to talk about his day.
Are you tired? No, he said. How is your race so far? I am a hard man.
Yes, he sure is.
Aguirre is serving on Patzina's support crew and watched as the 43-year-old suffered jelly fish stings during the swim and was buffeted, like the rest of the field, by some serious head winds around South Point during Stage I.
Stage II presented more obstacles for Patzina, who typically races with the front or middle of the pack.
His bike chain stuck and he was forced to cycle uphill in the toughest gear. Patzina also had to overcome five, yes, you read that right, FIVE flat tires during Saturday's ride from Volcano, through Hilo up to Hawi.
Some may recall Ironman champion Normann Stadler being stymied by two flat tires and a bee sting. He was reduced to tears and actually flung his bike into the lava fields when his race went horribly wrong.
Patzina, however, insists he is a "hard man from Bavaria" and would never, never quit.
Some helpful bike mechanic work from another team's crew and Patzina was back on course, finishing well within the 12-hour cut off.
Racers will be raring to go at 6 a.m. Sunday and the first athletes are expected at Old Kona Airport sometime shortly after noon. That mean's they'll be running sub-4 hour marathons … both of them.
The first mens' and womens' finishers, the first three men and women in each age division, may receive individual recognition Monday evening at the Awards Presentation.
— Find out more:
For the full roster of the 2009 athletes and their biographies, visit:
ultramanlive.com/2008-ultraman…
Photography by Baron Sekiya | Hawaii 24/7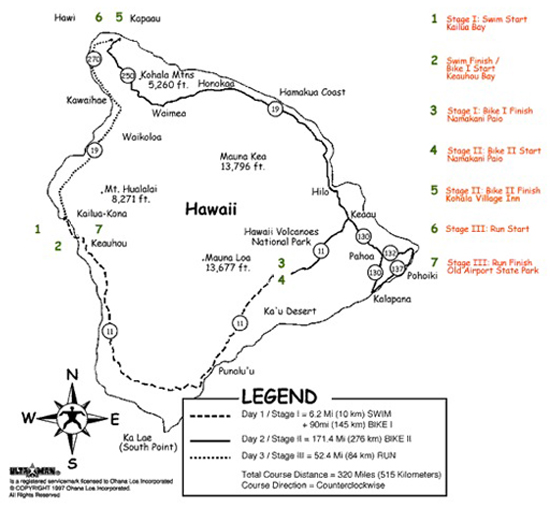 More info: ultramanlive.com