MEDIA RELEASE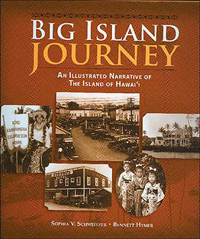 Big Island author Sophia V. Schweitzer will be at the Kohala and Kaloko branches of Hawaii Community Federal Credit Union this holiday season to autograph her new book, "Big Island Journey, An Illustrated Narrative of The Island of Hawaii."
Released in November by Mutual Publishing, "Big Island Journey" is a coffee table book that Schweitzer collaborated on with photo editor and publisher Bennett Hymer.
In celebration of the book's launch, Mutual Publishing has partnered with The Food Basket and Hawaii Community FCU on a special introductory offer of $26 per book, including tax. The introductory rate applies exclusively to books purchased at a credit union branch or at The Food Basket offices in Hilo or Kona; it is good through Dec. 31.
Available at any of Hawaii Community FCU's branches, a portion of the proceeds from the sale of "Big Island Journey" will benefit The Food Basket.
Books are also available via mail order by downloading an order form found at www.hicommfcu.com
Schweitzer will be available to autograph books at the Kohala branch 10 a.m.-noon Monday, Nov. 30 and 3:30-5:30 p.m. Friday, Dec. 4. Also, Schweitzer will sign books 10:30 a.m.-12:30 p.m. Saturday, Dec. 5, at the Kaloko branch.
The 256-page "Big Island Journey" uses vintage archival images and the author's story-telling skills to capture the history of the Island of Hawaii from early Polynesian settlement through the 21st century. This is the most recent of Mutual Publishing's "nostalgic picture" books, driven by the passion of photo editor Hymer for vintage photographs.
The books are available in other stores, with a suggested retail price of $40.
"We are very pleased to offer Hawaii residents the opportunity to purchase 'Big Island Journey' at our five branches," says Michael Asam, President/CEO of Hawaii Community FCU. "With the holidays coming, book lovers should take advantage of this special offer and make two gifts out of one purchase – benefiting both someone on their gift list and needy residents who turn to The Food Basket for assistance."
The Food Basket is a clearinghouse for food and non-food items that are then distributed around Hawaii Island to help alleviate hunger. It is the credit union's designated charity in 2009 and 2010.
— Find out more: