Bobby Command | Hawaii 24/7 Contributor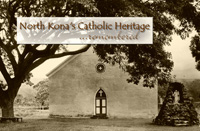 'North Kona's Catholic Heritage … Remembered' is a publication of the North Kona Catholic Community
Churches not only provide spiritual support to our communities, but they also serve as a tangible link to our past. Significantlty, older structures represent strength of faith – both figuratively and literally.
In other words, while secular buildings eventually run out of usefulness, churches typically stand the strength of time.
Consider Mokuaikaua, the oldest church in Hawaii, built while the daimyo still ruled Japan; Lanakila in Honalo, which was constructed only a year after peace was restored in the United States at Appomattox; and even Umi's Heiau on the slopes of Hualalai, likely erected during the lifetime of Michelangelo.
So it is distressful to the entire community around it when a church is damaged or destroyed. But such is the case with St. Michael the Archangel Church, which was built in 1848 and damaged during the 2006 earthquake. After all its service, the church currently is being demolished.
However, a wonderful publication, "North Kona's Catholic Heritage … Remembered," has been released in commemoration not just of of St. Michael's, but of the rich history of Catholicism in Kona, which began with the arrival of Fathers Ernest Heurtel and Robert Walsh.
By July 1840, the first mass was celebrated on the Big Island.
In 1855, St. Michael's was dedicated and it has since been one of the centers of activity in the community, offering everything from Catholic Youth Organization  sports to outreach for the homeless, not to mention the spiritual support for all Catholics in West Hawaii.
"North Kona's Catholic Heritage" is a vivid and lively companion not just to the everlasting mark made by Catholics in West Hawaii, but is also a document of history, with compelling photographs showcasing, for example, St. Peter's Church at Kahaluu with a dirt Alii Drive in front of it, the original Immaculate Conception Church in Holualoa (which burned down in 1943) and Confirmation Day in the 1950s (no Kailua Village condo between the church and Hualalai).
—
MEDIA RELEASE
In 1840, two French priests arrived here from Oahu to bring Catholicism to the Big Island. The optimistic and hard-working clergymen overcame a score of challenges to pave the way for the founding of St. Michael the Archangel mission.
A stone hitching post inside today's Kona Plaza Shopping Arcade marks the location of the island's first Catholic mass.
The parish's Heritage Committee produced "North Kona's Catholic Heritage … Remembered," which was printed on recycled paper in Hawaii. It sells for $20 with tax and proceeds benefit the church's Building Fund.
Copies of the book are being sold at St. Michael's Church, and also are available via mail by sending a check or money order for $22.50 to North Kona Catholic Community, 75-5769 Alii Drive, Kailua-Kona, HI  96740.
For further information, call 326-7771 or email office@stmichaelskona.org