MEDIA RELEASE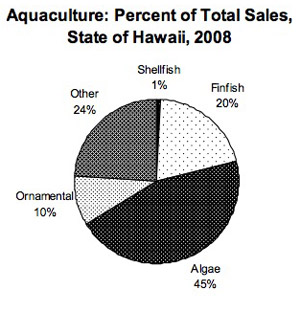 Hawaii-grown aquaculture reached a record $34.7 million in 2008, increasing 38 percent from 2007.
Algae sales accounted for 45 percent of the value and amounted to $15.7 million. Finfish sales by weight valued at $7 million, comprised 20 percent of the total.
The ornamental category was pegged at $3.3 million or 10 percent of the total.
The 'other' category includes seed stock, brood stock, and other items counted by number, accounted for 24 percent or $8.3 million.
Hawaii County continued to lead the state in aquaculture sales with $27.8 million or 80 percent of the total value.
Sales from Honolulu, Kauai and Maui Counties accounted for the remaining 20 percent.
— Find out more:
National Agricultural Statistics Service: www.nass.usda.gov