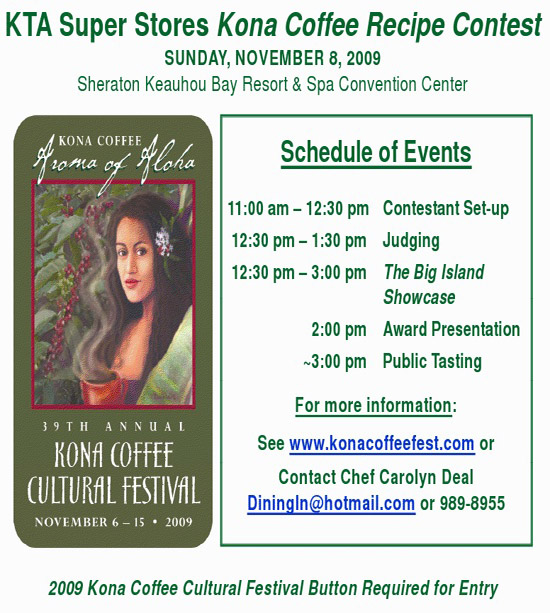 Time to cook up some coffee-themed dishes and treats. Get your entries in by the 5 p.m. Tuesday, Nov. 3 deadline.
And then get ready to do some tasting after the award ceremony …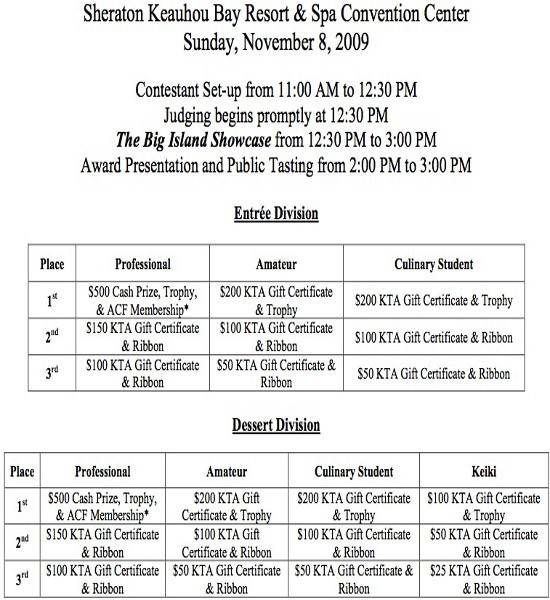 *The First Place Professional winners will also receive a one-year membership in the American Culinary Federation.
Contest Categories
1. Food service industry professionals will compete in the Professional category.
2. Amateurs are those who love to cook. They do not work in the food service industry. Amateurs include high school and college students who are not enrolled in a culinary arts program.
3. Culinary Students are currently enrolled in a high school or college-level culinary arts program.
4. Children in middle school and younger will compete in the Keiki Dessert Division category.
Rules and Guidelines
1. The coffee used in all recipes must be 100% Kona Coffee.
2. A 36" wide by 30" deep table space (72" wide by 30" deep for Professional Contestants) is available from 11 a.m. to 12:30 p.m. for final preparations and display of your entry. Cooking is not permitted and electrical outlets are not available in the Convention Center.
3. Judging of all entries will start promptly at 12:30 p.m.
4. Judges will evaluate recipes on a 40-point scale. Points will be allocated as follows: Presentation, General Impression (5 points), Plate or Platter Design (5 points), Composition and Harmony of Ingredients (10 points), Correct Preparation and Craftsmanship (15 points), and Serving Methods and Portions (5 points). Because of the unique nature of this competition, the judges will consider the contestant's effective use of 100% Kona Coffee, the use of local Big Island products, and table decoration.
5. Contestants must provide 3 small sample-size servings for the judges to taste and 1 serving-size plate for display.
6. Amateur, Culinary Student, and Keiki Contestants are asked to provide at least 40 sample-size servings for the public to taste after the judging. Professional Contestants are asked to provide at least 80 sample-size servings. KTA Super Stores will provide paper plates and utensils for your samples.
7. Contestants must include one copy of the recipe that is typed on 8 1⁄2" x 11" letter-size paper with each entry. Since this contest uses blind judging, DO NOT print or write your name or any other personal identifying information on the recipe. Entry forms without attached recipes are not eligible.
8. Entries must be left for viewing until 3 p.m.
9. Only one entry per person per Division is permitted.
10. Contestants may enter recipes in both the Entrée and Dessert Divisions. Submit two separate entry forms if you chose to enter a recipe in both Divisions.
11. All contestants must wear a 2009 Kona Coffee Cultural Festival button to participate in the contest.
12. The deadline to submit entry forms is 5 p.m., Tuesday, Nov. 3, 2009. Entries received after the 5 p.m. deadline are ineligible.
13. Please note that space for contestants in the Sheraton Keauhou Resort & Spa Convention Center is limited. If there are more entries than space, contestants will be accepted on a first-come, first-served basis.
14. The KTA Super Stores Kona Coffee Recipe Contest Committee reserves the right to deny entry to anyone or any recipe for any reasons they see fit. If there are insufficient entries in a division to allow meaningful competition, the Committee may combine entrée and dessert entries into a single competitive group.
Judging Standards
* Presentation, General Impression (0 to 5 points)
Dishes should be appetizing and tastefully pleasing to the eye, slices should be moderate, portions
correctly calculated and easily accessible. (0 to 3 points)
Additional consideration:
1. Evaluate the quality of the contestant's table display. (0 to 2 points)
2. Since no cooking is permitted on the premises, do not penalize contestants when hot or chilled dishes are served at room temperature.
* Plate or Platter Design (0 to 5 points)
No additional considerations.
* Composition and Harmony of Ingredients (0 to 10 points)
Display must be nutritionally well-balanced and in keeping with modern trends. Taste and colors should enhance each other, display practical craftsmanship, and should be practical, digestible, and light. (0 to 7 points)
Additional considerations:
1. Were Big Island ingredients used where appropriate? (0 to 1 point)
2. Is 100% Kona Coffee flavor an identifiable flavor? (0 to 1 point)
3. Does the flavor of 100% Kona Coffee compliment the other ingredients in the dish? (0 to 1 point)
* Correct Preparation and Craftsmanship (0 to 15 points)
Classical names should correspond to original recipes and methods of preparation. Preparations must display mastery of basic skills and application of cooking methods. (0 to 10 points)
Additional considerations:
1. Were Big Island ingredients used where appropriate? (0 to 1 point)
2. Is 100% Kona Coffee flavor an identifiable flavor? (0 to 2 points)
3. Does the flavor of 100% Kona Coffee compliment the other ingredients in the dish? (0 to 2 points)
* Serving Methods and Portions (0 to 5 points)
Simple and practical, clean and careful serving with no fuss, no over-elaborate or impractical garnishing, plate and platter arrangement that makes for practical serving while maintaining a strong sense of the elegant. (0 to 5 points)
2008 Recipe Contest Winners
Professional Entrée
First – Zachary Reid (Royal Kona Resort) – Espresso Rubbed Smoked Duck with Kona Coffee Infused Demi-Glace
Second – Deanna Delmar (Kona Country Club Vista Restaurant) – Kona Coffee Braised Osso Bucco with Turned Potatoes and Glazed Carrots
Third – Devin Lowder (Makalii Catering, Ltd.) – Kona Coffee Crusted Beef Tenderloin with Red Wine Chocolate Sauce
Professional Dessert
First – Cathy Barrett (Kailua Candy Company) – Kona Coffee Mousse Cake with Dark Chocolate Kona Coffee Ganache
Amateur Entrée Division
First – Noel "Butch" Light – Kona Coffee Smoked Ribs
Second – Barbara Bandalevitch – Kona Coffee Marinated Beef Salad
Third – Alice Amundson – Kona Coffee Meatballs
Amateur Dessert Division
First – Bernadine Waddell – Kona Coffee Cheesecake Cups
Second – Sandy Webb – Kona Koffee Mac-Brittle
Third – Makiko Alspach – Honaunau Kope Banana Bread
Culinary Student Entrée Division
First – Lora Jade Martin (Konawaena High School) – Beef Morcon with Coffee Sauce
Second – Jade Perreira (Honokaa High School) – TJ's OK Fine Kona Coffee Rubbed Rack-of-Lamb
Third – Ashley Delos Santos (Konawaena High School) – Breaded Pork Chop with Kona Coffee Sauce
Culinary Student Dessert Division
First – Kristo Barnett (Pahoa High & Intermediate School) – "Shark-Eyes"
Second – Karen Estabilio & Natasha Rein (Kau High School) – Coffee Swirl Brownie
Third – Jomar Padrigo (Kau High School) – Macadamia Nut Pie with Never Fail Pie Crust
Keiki Dessert Division
First – Mika Bettencourt – Kona Coffee Mocha Tort
Second – David Bearth – Kona Coffee Gingerbread Cut-outs
Third – Tehani Walker-Bray – Kona Coffee Truffles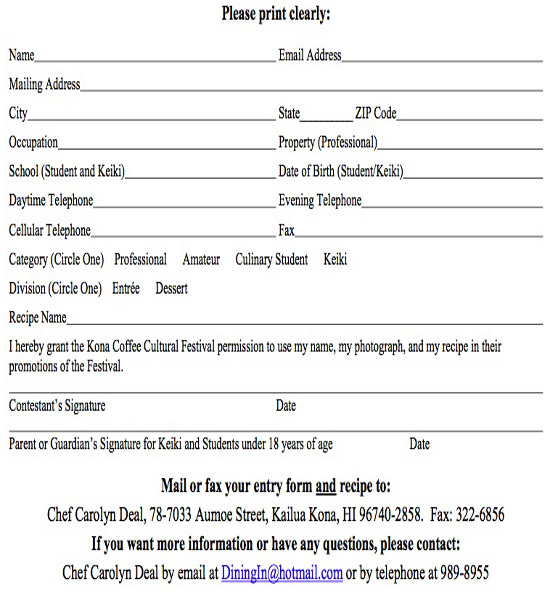 — Find out more: