Multiple award winner Amy Hānaiali'i entertains Moku O Keawe
Sunday, November 8, Waikoloa Bowl at Queens' Gardens
MEDIA RELEASE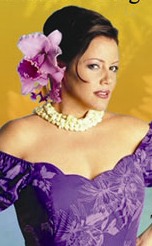 KOHALA COAST, HAWAII—In a special appearance under the stars, Ms. Amy Hānaiali'i performs her special blend of Hawaiian music Sunday, November 8 in the Waikoloa Bowl at Queens' Gardens, as part of the Moku O Keawe International Festival. Her concert caps off the celebration of hula and related arts during "Hō'ike," a traditional presentation, where the Festival's workshop students share what they have learned.
The Hō'ike begins at 6:00 p.m. with hula, chant, and songs played on traditional Hawaiian musical instruments such as pūniu (knee drum), 'ohe hanu ihu (nose flute) and 'ulī'ilī (gourd rattles). The program continues with Ms. Amy Hānaiali'i in concert at 7:00 p.m.
Multi-talented musician, singer and entertainer Amy Hānaiali'i has released 10 albums in her sparkling career, earning 3 Grammy nominations and 15 Nā Hōkū Hanohano Awards (including Female Vocalist of the Year 4 times). She is officially "Hawaii's Music Ambassador" as proclaimed by Governor Linda Lingle, and has opened for legendary stars like Carlos Santana, Willie Nelson, Joe Cocker, Wayne Newton, Arlo Guthrie, The Beach Boys, Ernie Watts, Boz Scaggs, Earth, Wind and Fire, Sergio Mendes and many more. Her second album, "Hawaiian Tradition" was the first Hawaiian Language album placed on the World Billboard Charts.
"We couldn't have asked for a more perfect performer to close the 2009 Moku O Keawe festivities," says event Moku O Keawe Foundation CEO Margo Mau Bunnell. "Her incredible talents and her deep commitment to the living Hawaiian culture take the event to the next level. We hope everyone will come to be inspired by the Hō'ike students and enchanted by Amy's concert."
Tickets for the Hō'ike/Concert November 8 are $20 in advance, $25 at the door. Keiki 4 and under are free.
The Moku O Keawe International Festival November 5-8 at Waikoloa Beach Resort is a celebration of hula and the arts of hula, including competition in kahiko, kupuna and 'auwana, cultural workshops and made-in-Hawaii marketplace. The Festival is sponsored by the Moku O Keawe Foundation, a 501(c)(3) organization dedicated to enhancing, enriching and educating the practice and development of hula and its associated arts. Its focus is to build, strengthen and inspire the living cultural traditions of Hawaii.
Major supporters of the Moku O Keawe International Festival include Hawaii Tourism Authority, Waikoloa Beach Resort, Louis Vuitton, Big Island Candies, County of Hawaii, Sig Zane Designs, Kathy Long, Sushi Shiono, Big Island Visitors Bureau, Waikoloa Beach Marriott Resort & Spa, Pacific Radio Group (KAPA), Kintetsu International Hawaii, Waimea Music Center, Kona Deep, Bausch & Lomb-Japan.
For information and tickets to events, visit www.MokuOKeawe.org