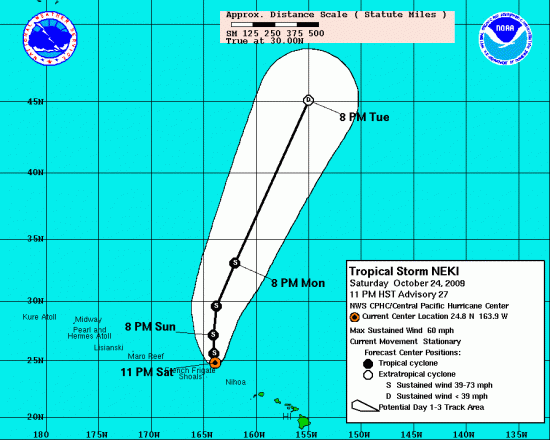 TROPICAL STORM NEKI ADVISORY NUMBER 27
NWS CENTRAL PACIFIC HURRICANE CENTER HONOLULU HI CP032009
1100 PM HST SAT OCT 24 2009
…TROPICAL STORM NEKI STALLS FAR NORTHWEST OF THE MAIN HAWAIIAN ISLANDS…
AT 1100 PM HST…0900 UTC…THE CENTER OF TROPICAL STORM NEKI WAS LOCATED NEAR LATITUDE 24.8 NORTH…LONGITUDE 163.9 WEST OR ABOUT 345 MILES NORTHWEST OF LIHUE…HAWAII AND ABOUT 165 MILES EAST-NORTHEAST OF FRENCH FRIGATE SHOALS.
NEKI IS NEARLY STATIONARY…BUT IS EXPECTED TO BEGIN MOVING SLOWLY NORTHWARD BY SUNDAY MORNING. THIS SLOW NORTHWARD MOTION IS FORECAST TO CONTINUE THROUGH SUNDAY NIGHT AND EARLY MONDAY. BY LATE MONDAY…NEKI WILL LIKELY BEGIN TO ACCELERATE TOWARD THE NORTH NORTHEAST OVER THE OPEN WATERS OF THE NORTH CENTRAL PACIFIC OCEAN.
MAXIMUM SUSTAINED WINDS REMAIN NEAR 60 MPH WITH HIGHER GUSTS. NEKI IS EXPECTED TO GRADUALLY WEAKEN FROM SUNDAY THROUGH MONDAY MORNING. BY LATE MONDAY…NEKI MAY BEGIN TO TRANSITION INTO AN EXTRATROPICAL SYSTEM AS IT ACCELERATES TOWARD THE NORTH NORTHEAST.
TROPICAL STORM FORCE WINDS EXTEND OUTWARD UP TO 115 MILES FROM THE CENTER.
ESTIMATED MINIMUM CENTRAL PRESSURE IS 1002 MB…29.59 INCHES.
…SUMMARY OF 1100 PM HST INFORMATION…
LOCATION…24.8N 163.9W
MAXIMUM SUSTAINED WINDS…60 MPH
PRESENT MOVEMENT…STATIONARY
MINIMUM CENTRAL PRESSURE…1002 MB
THE NEXT ADVISORY WILL BE ISSUED BY THE CENTRAL PACIFIC HURRICANE CENTER AT 500 AM HST.
More info at the Central Pacific Hurricane Center