Hawaii Island Humane Society 2010 Pet Calendars Now Available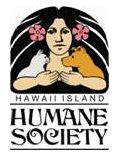 The Hawaii Island Humane Society has received their first shipment of the 2010 Pets in Paradise Calendar in plenty of time for holiday gift giving.
The colorful, glossy calendar features two cover models, twelve monthly pin-up pets, and vignettes throughout that include every entry that was received. Images include dogs, cats, horses, birds, and even a turtle.
Visit any Hawaii Island Humane Society shelter (Kona, Waimea and Keaau) and pick up a calendar for yourself and several for friends and family. Calendars are just $10 each. They will also be available soon at various retail outlets on the island.
Many of the featured calendar pets will be participating in the upcoming Hawaii Island Humane Society Halloween Pet Walk. The Kona Pet Walk begins at 8:00 a.m. at Hale Halawai and includes contests and prizes throughout the morning plus special prizes for the three walkers that garner the most in pledges. Logon to www.HIHS.org to download a pledge form.
The Hilo Pet Walk is in Liliuokalani Park and begins at 10:00 a.m. A booth will be available for microchipping at this Lehua Jaycees' sponsored event. Calendars will be for sale by Hawaii Island Humane Society at both the Kona and Hilo Pet Walks.
The mission of the Hawaii Island Humane Society is to promote respect for all animals, prevent cruelty to animals, eliminate pet overpopulation, and enhance the relationship between humans and animals. HIHS holds a contract with the County of Hawaii to enforce certain animal-related laws and it offers 24-hour service for injured animals and other animal emergencies, humane education classes, low-cost spay and neuter services, lost and found assistance, microchipping and more. Learn more at HIHS.org or call 329-1175.