MEDIA RELEASE
These Paws Are Made For Walk'n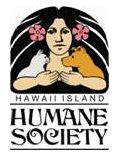 The Hawaii Island Humane Society's Annual Halloween Pet Walk is scheduled for Saturday, Oct. 31 in Historic Kailua Village with registration beginning at 8 a.m.
The event encourages pet owners to walk from Hale Halewai to Kailua Pier and back and then enjoy contests and prizes. The three walkers who raise the most pledge money will receive prizes and there will be prizes awarded for best costume, best pet trick, hot dog eating contest, best canine kisser and more.
The Annual HIHS Halloween Pet Walk is a great family event. Pre-registration is $30 per individual or family or $35 the day of the event. Anyone who garners $50 or more in pledges will receive a free tee shirt. The walk will begin at 9 a.m.
Registration forms are available from the Kona HIHS shelter or from many area veterinarians. Get a form, get your pet, and start walk'n. Proceeds benefit many of the needs of Hawaii Island Humane Society including pet food supplies and low-cost spay and neuter services to help eliminate pet overpopulation.
Visit www.HIHS.org where adoptable animals and their photos are listed or stop by HIHS Kona, Waimea or Keaau shelters to find your new best friend. Mobile adoptions are also offered at the Kona Commons PetCo Store 10 a.m.-2 p.m. each Friday and Saturday.