BIG ISLAND GOES GLOBAL FOR PEACE DAY
Live streaming video links Hawaii with international events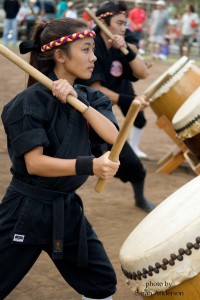 On Sunday and Monday, September 20-21, 2009, the Island of Hawaii will join global Peace Day celebrations in London, Amsterdam, Jerusalem, South Africa, Brazil, California, Canada and elsewhere, via technological wizardry and the efforts of international organizations such as Peace in Our Lifetime.
Two Big Island separate events will be broadcast via streaming video on the worldwide web in joint Peace Day music cooperative concerts happening around the world. The "Global United Party for Peace" will also appear within a virtual reality world, Second Life, where 3D user-generated characters called Residents, move, work, socialize, go to school, play and do business. Potential audience for the internet streaming broadcast is an estimated 1.5 million viewers.
The events are:
This first-of-its kind global broadcast from Hawaii is made possible through the cooperative efforts of the Peace Committee of Honokaa Hongwanji Buddhist Temple, Christian Hine-World Peace Effect Festival, Zion Estes-Amaraka, Honokaa High School, actress and peace pioneer Lynne Hazelden-Peace In Our Lifetime/Planting Seeds (United Kingdom), and many others. Major financial support has been provided by the County of Hawaii Dept. of Research & Development (Tourism Division), The Social Concerns Committee of Honpa Hongwanji Mission of Hawaii, Healing our Island and others.
To view the broadcasts, visit www.amaraka.tv/home/?q=node/28…, www.peacedayparade.org, www.peaceinourlifetime.org