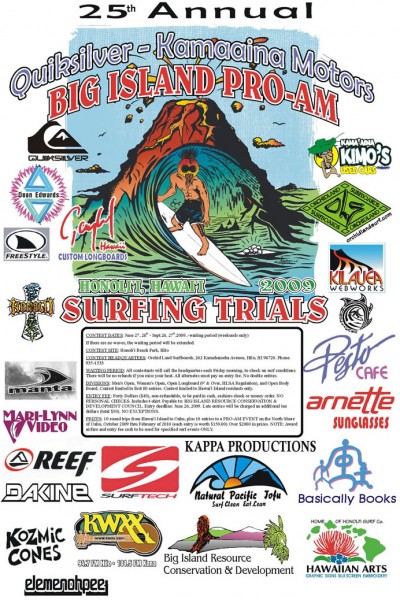 CONTRIBUTORS: Quiksilver Sportswear, KamaainaMotors, KWXX FM, Big Rock Color Works, Freestyle USA, Natural Pacific Tofu, Orchid Land Surfboards, Da Kine Hawaii, Reef World, Kappa Productions, Hawaiian Arts, Manta, Elemenohpee, Kilauea Webworks, Kosmic Cones, Honoli'I Surf Company, Mari-Lynn Video, Café Pesto, Basically Books, Arnette Sunglasses, , Honoli'I Paka, Big Island Resource Conservation & Development Council
CONTEST DATES: June 27, 28th – Sept.26, 27th.2009..-waiting period (weekends only) If there are no waves, the waiting period will be extended. CONTEST SITE: Honoli'i Beach Park, Hilo
CONTEST HEADQUARTERS: Orchid Land Surfboards, 262 Kamehameha Avenue, Hilo, HI 96720. Phone: 935-1533
WAITING PERIOD: All contestants will call the headquarters each Friday morning, to check on surf conditions. There will be no refunds if you miss your heat. All alternates must pay an entry fee. No double entries.
DIVISIONS: Men's Open, Women's Open, Open Longboard (9′ & Over, HLSA Regulation), and Open Body Board. Contest limited to first 80 entries. Contest limited to Hawai'i Island residents only.
ENTRY FEE: Forty Dollars ($40), non-refundable, to be paid in cash, cashiers check or money order. NO PERSONAL CHECKS. Includes t-shirt. Payable to: BIG ISLAND RESOURCE CONSERVATION & DEVELOPMENT COUNCIL. Entry deadline: June 26, 2009. Late entries will be charged an additional ten dollars (total $50). NO EXCEPTIONS.
PRIZES: 10 round trips from Hawai'i Island to Oahu, plus 10 entries to a PRO-AM EVENT on the North Shore of Oahu, October 2009 thru February of 2010 (each entry is worth $150.00) Over $2000 in prizes. NOTE: Award airfare and entry fee cash to be used for specified surf events ONLY.
For more information and entry forms visit: www.orchidlandsurf.com/contest…