MEDIA RELEASE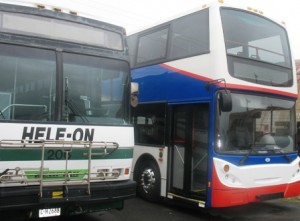 For the first time ever the County of Hawai'i mass transit system exceeded 1 million passenger trips for the fiscal year that ended June 30, a milestone that underscores the rapid growth of the free, countywide public transportation network, Mayor Billy Kenoi announced.
Transit ridership for the 2008-2009 fiscal year that just ended grew by 28 percent, and Mayor Kenoi noted another major increase in service is planned for early 2010.
"Expanding our free bus service is something we can do to make people's lives a bit easier during the economic downturn," Mayor Kenoi said. "I am proud of the advances we have made in our bus system. Our transit improvements make it easier for people to find work and to get to work, and help people to save on transportation costs. It helps our economy, and it helps our working families."
The county has nine buses on order, including five 49-passenger buses and four 33- passenger buses. The county also plans to purchase two more 49-passenger buses with federal funds that are expected under the American Recovery and Reinvestment Act, or ARRA. The county is also planning to purchase a double-decker bus to be used for the longer runs between East Hawai'i and West Hawai'i. All of the new buses will be wheelchair accessible, and all will have bicycle racks.
The county Mass Transit agency expanded service in February, 2009, adding new routes and adding bus trips on the most heavily used routes.
The 28 percent increase for the entire Mass Transit system includes county bus service, disabled transportation service and the shared ride taxi service in Hilo. If the bus service is considered alone, there was a 35 percent increase in passenger trips for the bus service.
"We want to thank U.S. Sen. Daniel K. Inouye and U.S. Rep. Mazie Hirono for their generous support, which has enabled us to fund the purchase of new buses and our initiative to create new bus shelters," Mayor Kenoi said.