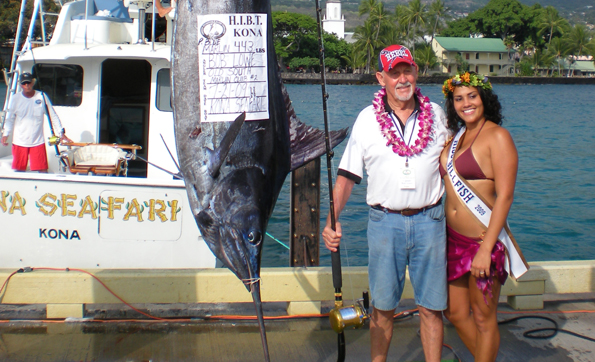 Karin Stanton/Hawaii247.com Contributing Editor
Bob Lowe has fished the Hawaiian International Billfish Tournament for 25 years, but he said he met his match Tuesday.
The 78-year-old angler from Lizard Island, Australia spent more than 3 hours wrestling with a 443-pound Pacific blue marlin during the second day of the competition.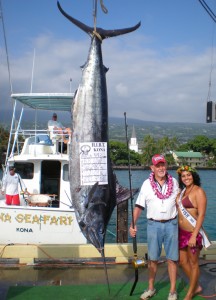 Lowe, aboard Kona Seafari, snagged the fish at 8:14 a.m. on 50-pound test line.
"That's the toughest little fish I've ever seen in my life," Lowe said, relaxing with teammates and a cold beer. "It's only a little rat, just more than 400 pounds, but it was tougher than some 1,000-pounders I've caught."
An Old South Marlin Club #2 teammate expressed his admiration for Lowe.
"This is the toughest S.O.B. you'll meet," he said. "Three and a half hours and he never broke a sweat. It would have made a younger man cry."
As an Australian representative for the International Game Fish Association, Lowe knows fishing and has his share of catches under his belt including landing a 1,000-pounder in under an hour.    
And One Ahi
In other news, one ahi was also boated Tuesday. Another 23 billfish were tagged and released back to the sea throughout the day.  
Pajaro Valley Game Fish Club #1 had its first tag of the day just minutes into the competition. 
Team Malaka followed its second-fish-of-the-day habit with angler Phillip Duke tagging his estimated 150-pound Pacific blue marlin by 7:30 am. 
These important points earned Team Malaka its two-day lead.  
Old South Marlin Club #2, Malibu Marlin Club (2007 HIBT winners) and Bay of Islands Swordfish Club from New Zealand are close in the team standings.  
"This is really how the tournament functions best," said HIBT founder Peter Fithian. "Lots of fish, the scoreboard always changing and most teams are seeing plenty of action."  
Fishing continues through Friday, July 24.
—Find out more:
Hawaiian International Billfish Tournament: www.hibtfishing.com