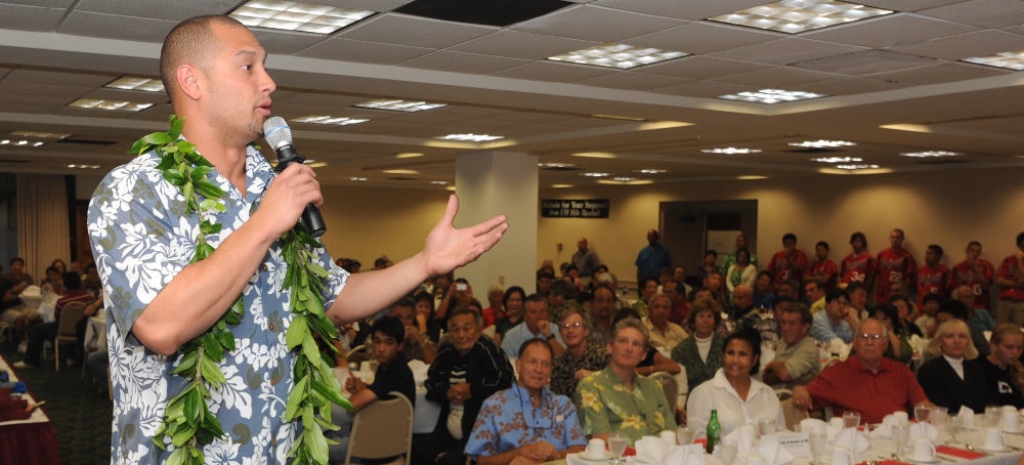 UPDATE 5 p.m. Friday, July 10:
See you in St. Louis, Shane!
Shane Victorino, the Maui-born Philadelphia Phillies outfielder joins Detroit Tigers third baseman Brandon Inge at  Tuesday's All-Star game after  a record-breaking voting campaign.
Victorino received 15.6 million votes and was followed by San Francisco's Pablo Sandoval, Arizona's Mark Reynolds, the Los Angeles Dodgers' Matt Kemp and Washington's Cristian Guzman.
Victorino was picked in fan voting for the final spot on the National League roster for the Major League Baseball's 80th All-Star Game, which will be played Tuesday at Busch Stadium in St. Louis.
His 15.6 million Internet votes eclipsed Evan Longoria's record-setting 9 million in 2008. Fans smashed Final Vote records by casting 68.6 million votes at MLB.com.
"It means a lot to me," Victorino said. "It really means what these fans are about. From Day 1, when I got called up here in '05, I knew what I was coming into. I heard a lot of good things about these fans, and it only gets better and better every day."
Victorino said he appreciated the support from across the country, but especially his home state and adopted state.
"I am so honored and appreciative of the passion that everyone has shown to make this dream come true, especially with the number of votes cast. It's just unbelievable," he said. "I was surprised a little, but I knew this was an opportunity for me to really see and understand what it's really like to be a Phillie. It really showed by what has happened. I'm very appreciative."
The Phillies outfielder went door-to-door in South Philadelphia with Mayor Michael A. Nutter to campaign for votes this and prompted a friendly bet between the Pennsylvania and Hawaii governors.  
Pennsylvania Gov. Ed Rendell and Hawaii Gov. Linda Lingle had a wager on which state can get more votes for Victorino. If Pennsylvania has more votes, Lingle will send eight cases of pineapples to Rendell. If Hawaii wins, Rendell will send cheesesteaks.
Victorino is hitting .306 with 22 doubles, six triples, six home runs, 39 RBIs and 13 stolen bases. He is the fourth Hawaiian to be selected for the All-Star Game following Ron Darling, Sid Fernandez and Charlie Hough.
No word yet on whether Lingle will be dining on cheesesteaks or Rendell will be munching on pineapple …
MEDIA RELEASE 
The final spot for the National League All-Star roster is up for grabs, and the governors of Hawaii and Pennsylvania have made a friendly wager to rally online voting support for Phillies outfielder Shane Victorino, also known as The Flyin Hawaiian. 
Hawaii Gov. Linda Lingle and Pennsylvania Gov. Edward G. Rendell have agreed to the stakes. To win, one state must vote for Victorino more than the other. 
Voting for the 2009 All-Star Game Sprint Final Vote takes place until 10 a.m. Thursday, July 9 (Hawaii time) on www.mlb.com or www.phillies.com. 
Playing off Victorino's team number ("8"), the losing state's governor will send a taste of that state's local flavor to the winning governor. 
If Pennsylvania casts more votes than Hawaii, Lingle will send eight cases of pineapples to Rendell; and if Hawaii casts more votes than Pennsylvania, Rendell will send eight cases of cheesesteaks to Lingle. 
"I am confident that Pennsylvanians will show their love for Victorino," Rendell said. "I am more than happy to show my support for Shane Victorino and the world champion Philadelphia Phillies. Let's get him voted onto the All-Star team." 
"All the people of Hawaii are proud of our local Maui hero Shane Victorino. We are excited to do our part and show the baseball world our 'aloha' as we help get the final All-Star votes he needs to make the 2009 roster," Lingle said. 
The Competition 
There are currently five players on the All-Star ballot for the final roster spot: Cristian Guzman of the Washington Nationals; Matt Kemp of the Los Angeles Dodgers; Mark Reynolds of the Arizona Diamondbacks; Pablo Sandoval of the San Francisco Giants; and Shane Victorino of the Philadelphia Phillies. 
The 80th Major League Baseball All-Star Game will be televised nationally Tuesday, July 14, by FOX Sports.