MEDIA RELEASE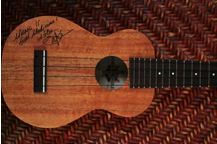 Most of you know that last May we produced an amazing concert with the virtuoso ukulele player Jake Shimabukuro.  Getting to know him a little has been the highlight of the past year.  We had the opportunity to get his autograph on this brand new Kamaka ukulele, the only kind he plays.   We offer this special ukulele for sale to raise funds for this summer's festival.
Generous friends of the festival have stepped up to the plate with additional auction items.  Michael Cromwell's vibrant "Hula Girl" photograph is offered, as well as a luxurious Fairmont Orchid hotel package and exciting dinner packages at fine Big Island restaurants.  Gift baskets from Hawaiian Vanilla Co and Waimea Coffee Company are perfect for yourself or loved ones.
Bid on a Season Pass to all Hawaii Performing Arts Festival events!
Here's a chance to help the festival and shop for a good cause.  Please join us at hpafsummerauction.cmarket.com!