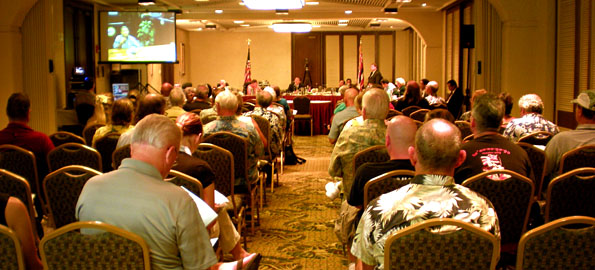 Karin Stanton/Hawaii247.com Contributing Editor
Less than seven months into a two-year term, the County Council replaced its vice chairman and shuffled leadership roles on the seven standing committees Tuesday during a marathon meeting in Kona.
Three resolutions had been floated:
* Resolution 200 called for elevating Emily Naeole to the council's vice chair position, replacing Pete Hoffmann. (Approved, 5-4)
* Resolution 201 designated new committee chairs and vice chairs, most prominently stripping Dominic Yagong of the Finance Committee and Brenda Ford of the Public Works and Intergovernmental Relations committee. (Approved, 5-4)
* Resolution 202 amended the rules of procedure, essentially  folding the Human Services & Economic Development Committee into the Finance Committee, and folding the Food and Energy Sustainability Committee into the Environmental Management Committee. (Withdrawn before vote)
Voting for the two measures were: Chairman J Yoshimoto, Donald Ikeda, Emily Naeole, and freshmen council members Guy Enriques and Dennis Onishi. 
Opposed were: Pete Hoffmann, Brenda Ford, Dominic Yagong and freshman councilman Kelly Greenwell.
The third resolution, which reduced the standing committees to five, was withdrawn by Onishi, who introduced resolutions 200 and 202.
Enriques introduced resolution 201, which gave him a committee leadership role.
New line up
Chairman: Yoshimoto (South Hilo)
Vice Chairwoman: Naeole (Puna)
Public Works and Intergovernmental Relations: Chairman Enriques (Ka'u), Vice Chairman Greenwell (North Kona)
Planning: Chairman Ikeda (South Hilo), Vice Chairman Enriques
Finance: Chairman Onishi (South Hilo), Vice Chairman Ikeda
Food and Energy Sustainability: Chairwoman Ford (South Kona), Vice Chairman Hoffmann (Kohala)
Public Safety and Parks & Recreation: Chairman Yagong (Hamakua), Vice Chairman Onishi
Environmental Management: Chairman Greenwell, Vice Chairwoman Ford
Human Services and Economic Development: Chairwoman Naeole, Vice Chairman Yagong
Hours of testimony
Approximately 60 people spoke during nearly seven hours of public testimony in Kona, and via video-conferencing from Waimea and Hilo.
Eight council members were in Kona; Naeole joined via video from the Hilo council chambers.
A handful supported Naeole taking the vice chair slot; none spoke in favor of removing Hoffmann, Yagong or Ford from their leadership roles or in favor of consolidating committees.
The majority wanted to know why the shuffle was necessary, praised the trio of veteran policy-makers and called for fair and balanced council leadership.
Many called the move a Hilo "power play" and said the result would be to disenfranchise some 50,000 voters in the island's west and north districts.
Others called the resolutions irresponsible, manipulative and sneaky; several urged they be withdrawn before a vote.
Public testimony highlights
John Buckstead, in Kona, said the resolutions reflect a failure to serve the county government's basic function and effectively split the island. "I find the disenfranchising of West Hawaii voters to be reprehensible."
Marshall Blannk, Kona: "These resolutions don't pass the smell test."
Gretchen Lawson, Kona: "It is akin to taxation without representation. It's not as if these people are doing a bad job. I implore you to use judgement, sensitivity and don't put through what amounts to a coup."
James Weatherford, Hilo: "This folly is a political power play. There is nothing in this that is better for the people. This is not about the silent majority. It is about silencing the majority."
David Webb, Hilo: "It sure seems to me the chair and committees are in balance now. If it's a power grab, it is short-sighted."
Julie Jacobson, Hilo: "This is just wrong. This a movement that will affect who will run against you (in 2010). Don't do this now. Respect your star council members."
Barbara Kahn-Langer, Hilo: "We're disenfranchised for what? For who? One guy who really, really, really likes baseball. And one who doesn't respond to (media requests for comment). He's hiding. Shame, shame, shame on you."
Sunshine Law
More than a few asked whether the state law that governs open meetings was violated, especially when it was revealed Yoshimoto told Hoffmann last week he had the five votes needed to reorganize.
The section of the Sunshine Law that deals with reorganization allows for more than two members of a body to meet, as long as it does not reach a quorum. In this case, it covers up to four council members. 
At least one testifier said he has asked the state Office of Information Practices to investigate.
Ford also questioned whether the resolutions were added to the agenda in a timely fashion. They were stamped at 10:30 p.m. Wednesday, which would not allow the mandatory six full days notice.
Sport or not a sport
Following public testimony, council members weighed in on the committee leadership reorganization. 
Enriques, a volleyball coach (Sorry, Barbara, not baseball!) who publicly likened the council to a sports team, said he is only interested in the council working together as a team.
"This is not about Mayor (Billy) Kenoi. This is not about retaliation. This is not a power play," he said. "The main emphasis is team work."
Disagreement and discussion are OK, he said, but he was disappointed with the way the Finance and Public Works committees were conducted – that's Yagong and Ford, respectively.
He said relationships on the council are not unlike a team, business or family.
"It's based on the same principles," he said. "I'm talking about leadership styles. All I'm saying is maybe a change will make a difference."
Hoffmann took issue with Enriques' sports talk.
"I challenge completely the analogy to sports. Sports is entertainment," he said. "We are the policy-making body of this county. That is our responsibility."
Yagong also rejected the comparison.
"Volleyball is a game that's played by children, students and gifted athletes," he said. "I love sports, but county government is not a game."
Council debate
Onishi, who was reading from a prepared statement, said teamwork can be an uphill battle and he introduced the resolutions "because of the ups and downs."
He noted the leadership leaned toward West Hawaii between 2006 and 2009.
"You folks have to look back and see where the power was," he said. 
Hoffmann said the changes were not necessary.
"I'm really embarrassed for each and every one of us," he said, noting he spent his time as chairman trying to build respect for the council. "This is tearing at the very heart of that objective."
Hoffmann, who said he was visited last week by Yoshimoto and County Clerk Ken Goodenow, and Greenwell, who got a call from Onishi, said they believed changes were being discussed in regard to next year's budget process and were surprised to see it on this week's agenda.
"I have yet to hear one valid reason to remove Dominic Yagong and Brenda Ford from their committees," he said. 
Greenwell said to make the changes now is a blunder when the focus should be on securing federal stimulus funds, not  "farting around with this crap."
Ford asked for clarification from Yoshimoto as to when he visited Hoffmann's office.
Goodenow interrupted, saying she should stick to the merits of the resolution. 
The two spoke over each other repeatedly until Yoshimoto called a recess. The elected official and county staffer continued, with Ford telling Goodenow several times to stop speaking to her.
Once the meeting resumed, Ford said replacing Yagong is a misstep.
"Dominic Yagong knows more about finance, economics and business than anyone else on the council and we are facing tough economic times,"  she said. "This is not the time, nor will it ever be the time, to discard experience. This reorganization will not further the people's business. There is tremendous divisiveness in these resolutions."
Naeole said she did not want to rehash the last seven months. "I'm an up-lifter, not a smash-downer."
Yagong said he would abide by the vote.
"Majority rules. I respect that. I certainly won't cry about it," he said. "I've been on both ends of the stick."
He acknowledged he may have butted heads with the Kenoi administration over budget issues, but urged caution.
"I saw this coming two months ago," he said. "We cannot have a government that will roll over for everything the mayor wants. We need checks and balances."
Hoffmann out, Naeole in
Onishi offered to postpone the vice chair vote, then withdrew it when Naeole requested the vote be taken.
"I just feel a little offended. Next time, don't put it through if you are going to shut it down," she said. "People are telling me 'you are being used.' I'm not selling my soul for nothing. 
She said she had asked for the vice chair's role.
"I feel I deserve as much as anybody else on this council and not because I am Hawaiian," she said. "I have a certain style about myself. I am a hard worker myself. I know I can do anything."
Yoshimoto said he was not sure Hoffmann wanted to continue in the role. "I want to hear clear from you, do you want to be vice chair?"
"Absolutely," Hoffmann said. "If you wish to remove me, that's your call. I have no idea why I should be removed at this time, quite frankly."
Yagong, Ford and Greenwell backed Hoffmann.
"This is an issue of qualification," Greenwell said. "Hoffmann is qualified in spades; Emily Naeole is not and you all know this."
Enriques tried to throw the decision back to Yoshimoto.
"It should be his choice. Just like a head coach chooses an assistant," he said.
Yoshimoto said he believes in giving people chances.
"All of us are capable to serve. Anyone on this council can serve in any capacity," he said. "My tipping point is giving people the opportunity to serve."
The next council meeting is July 7 in Hilo. Stay tuned …