MEDIA RELEASE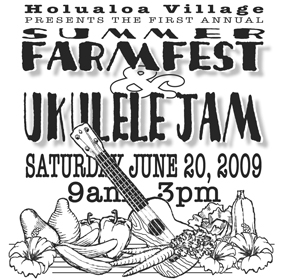 The deadline for vendor mail-in applications for the June 20th "Summer Farmfest & Ukulele Jam" in Holualoa Village is Saturday, June 13th.
The all-day celebration of local food, flowers, and beverages will be hosted by the upcountry village's art galleries and shops along Mamalahoa Highway between 9 a.m. and 3 p.m. and also feature free ukulele concerts at the Kona Hotel, Post Office and grounds of the Living Hope Church. Vendors will have free samples of their local produce as well as offering it for sale to the public.
All farmers and vendors of local produce who wish to participate in the event are urged to get their applications from the Holualoa Village Association web site (www.holualoahawaii.com), or at the Holuakoa Cafe this week and get them in the mail by Saturday, June 13th. Walk-in delivery of applications will accepted at the Holuakoa Cafe until Wednesday, June 17th.
For more information, go to:
holualoahawaii.com, or call Mike Zelko at 895-0977