MEDIA RELEASE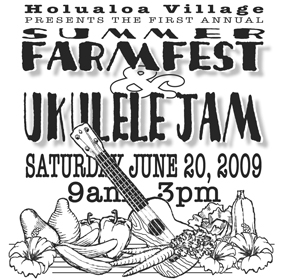 The Holualoa Village Association is inviting West Hawaii farmers to participate in its first "Summer Farmfest & Ukulele Jam". The Saturday, June 20th event will feature fresh produce samples from local farms and ukulele music on three stages throughout the historic upcountry town from 9 a.m. until 3 p.m.
Much like Holualoa's popular, annual November "Coffee & Art Stroll", the new summer event will showcase local produce at most of the village art galleries and shops along the half mile stretch of Mamalahoa Highway between the Holualoa School and Imin Center.
Only producers of locally grown products are being invited to participate in the day long event. Farmers will be asked to provide fresh samples for the public and will be allowed to sell their wares as well. Categories being accepted include fruits and vegetables, flowers, herbs, honey, fruit drinks, jam and jelly preserves, meat, poultry and dairy products.
Other Holualoa Village Association member activities happening throughout the historic coffee town will be an expanded farmer's market and grand opening of the new Artisan Foods Deli at the Holuakoa Gardens & Cafe, keiki petting zoo in the Cafe courtyard, and art and bowl turning demonstrations.
Applications for farms are available at the HVA web site; www.holualoahawaii.com, and at the Holuakoa Cafe. There will be a $25 participant fee for all accepted farms. Deadline to apply is June 13, 2009.
For more information contact Mike Zelko, 895-0977, about farm displays or Paul Maddox, 326-7709, about the event.