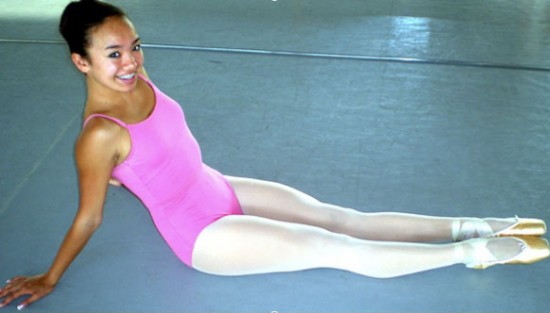 Karin Stanton/Hawaii247.com Contributing Editor
Jeanne Kapela knows how she will spend her summer.
Once the 14-year-old wraps up her freshman year at Kealakehe High School, she'll pack her bags and head to the mainland for the first time in her life.

The daughter of Keahi Kapela, a professional hula and Tahitain dancer, the Kona teen has studied nine years at West Hawaii Dance Academy and spent last summer at Ballet Hawaii, but this is the big time.
"I know this is going to be a life-changing opportunity and I know it's going to be awesome and I'll try my hardest every day," Kapela said. "This is what I want more than anything in the world."
In addition to ballet, Kapela also has studied hula, hip hop and contemporary dance under the guidance of West Hawaii Dance Academy founder and classical ballet teacher Virginia Holte. Mother and daughter are not the only family members with footlose feet. An uncle is a fire dancer, a cousin appears in Las Vegas shows and her brother, Haili, 9, is studying hula.
Kapela is not the first of Holte's students to gain such recognition, but Holte praised her achievements.
"This is awesome opportunity for her. She has the whole package – the exotic look, the perfect body for it, a good temperament," Holte said. "What's unique about Jeanne is her Hawaiian background, which makes her special. Plus her mother is a really talented dancer and that helps."
Kapela has been concentrating the last few months on technique and stamina so she can make an impression on one of the country's most prestigious ballet companies.
"The San Francisco company auditions worldwide. For her to get in without going for a personal audition – only sending in a DVD – it's a really big deal," Holte said. "I thought pretty much for sure she'd be in if she worked for it."
Kapela admits she is a little apprehensive about the summer intensive workshop, but is ready for the challenge.
"It'll be the first time I'll ever see over 200 dancers all at one time. I'm gonna be a little nervous," she said.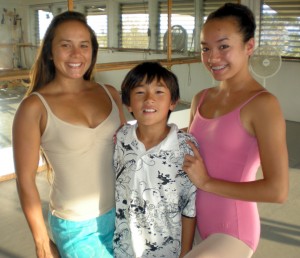 "I think it'll be easier because of the Ballet Hawaii experience and because I have learned what it's like to be away from family," Kapela said. "It strengthened me as a dancer and as a person."
Holte said she is excited for Kapela and looking forward to hearing about her adventures.
"That's the wonderful thing about this – they go off, learn from all these international teachers and bring that knowledge home," she said. "There will be many, many like-minded girls and I'm sure it'll really open her eyes. San Francisco, in terms of future employment, has the best program. It's very international and it's a really neat school."
Kapela has a vision beyond this summer.
"My goal next year is to go back to San Francisco or another ballet school and go full year round and then join a professional company," she said.
"But I won't ever forget I'm from Hawaii. I know I would not even have this dream if it wasn't for my family and West Hawaii Dance Academy teachers and all the people who support dance on the Big Island."
— Find out more:
West Hawaii Dance Academy: www.whdt.org
San Francisco Ballet: www.sfballet.org