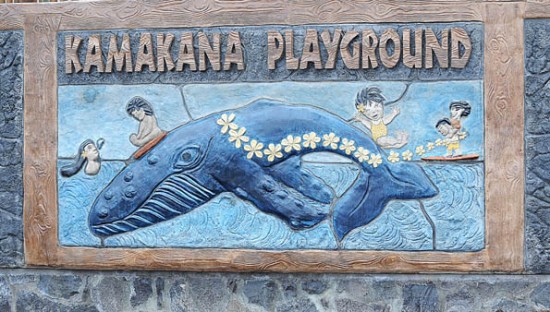 Karin Stanton/Hawaii247.com Contributing Editor
Kamakana Playground has reopened after two months of extensive renovations.
Higashihara Park now features separate play areas and equipment for toddlers, as well as keeping and restoring key features.
Community project manager Cliff Kopp on Tuesday praised the volunteers, including Rotary Club, Lions Club, Carpenter's Union and Drug Court clients working off community service.
"This playground is for the children to have the fun; the parents get to have the memories," Kopp said. "It was 61 days of fun for me. It was all about the fun"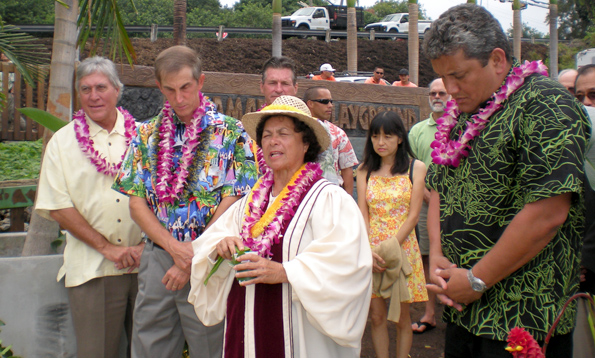 Kopp pointed to the Drug Court volunteers as an integral part of the process.
"I love you guys. You pulled us out of hot water several times when we thought we couldn't get it done," Kopp said.
Judge Ronald Ibarra, who oversees Drug Court, said also hailed the volunteers.
Kopp and Ibarra estimated 8,000 donated labor hours, including several Drug Court clients who juggled school and work to pitch in up to 38 hours a week.
"This park is a place where kids can feel safe. So for the keiki and families, I say thank you," Ibarra said. "I heard comments back that they just felt like any regular human being who is concerned about this community."
Rotary Club of Kona spearheaded the renovations, with a $10,000 contribution. Ironman Foundation also donated $10,000 and Kopp personally kicked in a substantial amount, which County Council members said they will reimburse.
The playground originally was built through donated time and materials, however it fell into disrepair over the last decade.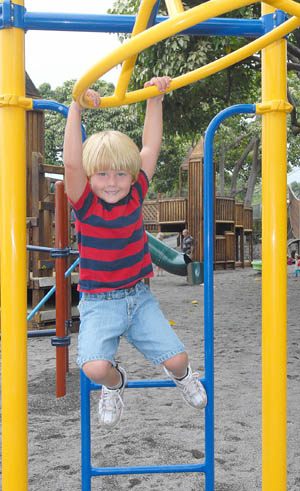 Sue Berges and her family were regular visitors to the park before the renovations and were among the first to test out the new playground.
"It's beautiful, very nice," she said. "It's always been a great park, but before it was a lot more dangerous."
Her sons Brett, 5, and Derek, 21 months, have been waiting for the day when they could come check it out.
"Brett will love the climbing equipment, the slide and, of course, the castle is a favorite," Berges said. "He's been asking about it all the time. Waiting for it to open again."
Kopp and his army of volunteers:
* Refurbished one pavilion and built a second one
* Refurbished and restored all the wooden structures
* Built new bathrooms on the playground level
* Installed 12 new pieces of equipment, including a 20-foot zipline and a vertical springload decive called Bing Boing, reportedly the first of its kind in the state
* Added tire swings, including one for disabled keiki
* Created two horseshoe courts and three inlaid tables for chess and checkers
* Added three new barbecue pits
* Laid new surfacing, 70 tons of rock wall, and planted 5 square yards of lawn
* A 22-foot-long whale sculpture to climb on