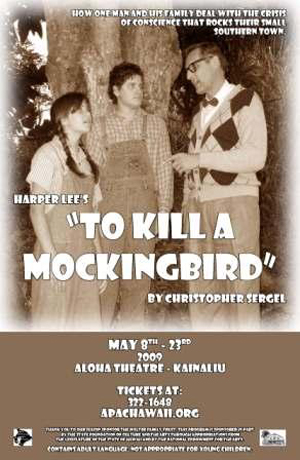 Presented by Aloha Performing Arts Company, Harper Lee's 1961 Pulitzer Prize winning novel is still No. 1 on the list of books read most often by U.S. high school students.
Christopher Sergel has adapted it for the stage in a concise, compassionate, deeply moving script.
The story of childhood in a sleepy Southern town and the crisis of conscience that rocked it, this intelligent play takes us to the roots of human behavior — to innocence and experience, kindness and cruelty, love and hatred, humor and pathos. 
The show begins its run Friday, May 8 and closes Saturday, May 23
Friday and Saturday shows begin at 7:30 p.m.; Sunday matinees are 2:30 p.m.
Ticket pricing: $15 Adults; $12 Kids and Seniors; Children Under 2 Free (Must be seated on your lap); Fridays All Seats $12
For tickets, call 3222-1648 (9 a.m.-5 p.m. Monday through Thursday) or visit www.apachawaii.org